Google could bring Live Captions to Chrome soon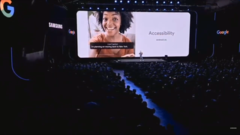 The recent Samsung Galaxy S20 launch event also served to unveil the addition of the Live Caption feature to Google, in which video-call speech is converted into text in real time. Now, there is evidence that this function is also being ported to Chrome. This app's gerrit shows the integration of an API necessary to deliver it within the browser.
Live Captions are an increasingly prevalent form of accessibility in Android, and can be powered by the up-to-date AI-enabled real-time transcription features found in the Pixel series. They will also be a feature of the Galaxy S20 series, as they will be an option on the Google Duo app on these new phones. However, it now seems they will get even more widespread soon.
A new commit in the Chromium Gerrit points to the integration of Live Caption function into the Mountain View company's browser. This will be facilitated through the Speech On-Device API (SODA), which now has a sandboxed service to host it. However, it has not been implemented yet.
Going by other text found in the new service's description, it may be called Chrome Live Captions when it comes to fruition. Such real-time speech-to-text conversion has the potential to be a versatie addition to the browser, particularly when it comes to watching videos in crowded environments.