Vivaldi 2.11 now available with improved Pop-out video mode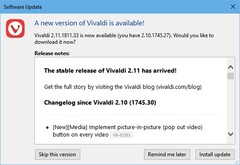 Vivaldi 2.11.1811.33 is this year's first desktop update and comes with "a new and improved" Pop-out video mode, Themes update to match the OS dark/light mode, the ability to shift focus between different UI areas using the keyboard, upgraded developer tools, and improved full-screen tab casting.
Vivaldi for desktop is still around and doing all right since Opera 12's spiritual successor has just received its first desktop update of the year. Vivaldi 2.11 — or 2.11.1811.33 for those into long version numbers — mainly comes with improved Pop-up video play so its users can watch videos independently of the page where they found them, but there's more to it than just that.
Leaving aside the aforementioned Picture-in-picture mode, Vivaldi 2.11 is also able to follow the operating system's dark/light mode by default — something that was not in the cards so far. To shift focus between the UI elements such as the active webpage, bookmarks bar, tab bar, and address bar, the user can now use F6 (Shift+F6 for reverse cycle).
In addition to the above, Vivaldi 2.11 also comes with a few minor tweaks and adjustments, the most important ones being the improved full-screen tab casting and upgraded developer tools. Overall, the new update packs no less than 85 bug fixes and 4 new features. All the details can be found on the Vivaldi 2.11 release notes page.