The latest Firefox preview for Android introduces extension support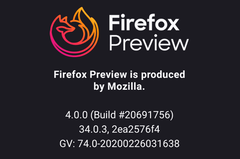 Mozilla's GitHub now offers a version of Firefox for Android that is updated compared to the app available on the Google Play Store. Its most interesting attribute is an ability to add extensions to this mobile browser for the first time. There is only 1 add-on available at present, but the developer is confident there will be more soon.
Mozilla has made a new version of its Firefox app for Android available via a GitHub. It is a preview version, particularly compared to the one available through the Play Store. The former - v4.0 - adds support for extensions for the first time.
The developer has kicked this new dimension of mobile Firefox off with uBlock Origin, the content filter that also works on ads. It can be added by navigating to a new Add-Ons Manager under the app's main menu. Mozilla asserts that it will be followed by additional extensions throughout the year.
Otherwise, Firefox Preview 4.0 for Android also includes enhanced login management options, including the ability to store, auto-complete and copy logins. It also now offers Top Sites, in which favorite and frequently-used sites can be laid out in a new tab.