Potential final-design PlayStation 5 console shown booting up in video, but it could be an elaborate fake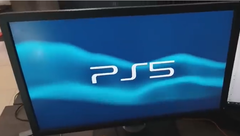 A short video has been uploaded to YouTube that appears to show the boot screen for the PlayStation 5 and maybe even a good glimpse at the console itself in its final design format. The console looks completely different, as is expected, from the now familiar PS5 devkits. However, there is plenty of argument that this clip has been faked.
It feels like something is going to happen soon in the Sony PlayStation world as more and more leaks and rumors seem to be cropping up. For instance, there are conflicting stories that the PlayStation 5 will get a full reveal on either February 5 or February 29, depending on what source you believe. We already had a glance at an alleged image of a consumer market PS5, and now we have a video of a supposed PS5 in action.
The video clip is quite short and shows a PS5 boot-up screen, which some have speculated takes way too long to complete considering the next-gen console will be utilizing a super-fast custom SSD. There's a DualShock controller in front of the monitor and to the right is a somewhat non-descript box, which could be the final-design PlayStation 5. A QR code then appears on the monitor while some further details are blacked out.
However, it is definitely a suspicious PS5 reveal that has seemingly been uploaded publicly by "accident". The next-gen console doesn't appear to be similar to either the V-shaped devkit or the recently leaked X-shaped potential consumer market model. Also, it has been repeatedly pointed out by viewers that the PS5 logo on the loading screen is off-centre and too far to the right than it should be. Fake or not, with nearly 100,000 views at the time of writing, this is just further proof of how much excitement there is being generated about the upcoming PlayStation 5.