Finally good value for money: Get the 108 MP Mi Note 10 for just US$466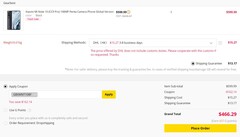 While we're fans of the Mi Note 10, its US$610 MSRP was rather off-putting, and we recommended potential buyers to wait for a sale if they planned to buy the device. Well, here's one such deal. The Mi Note 10 can now be had for just US$466, about US$140 off its MSRP.
Xiaomi released the Mi Note 10 at the start of the month. The phone has received plenty of praise for how ambitious it is, as it's the first mass-production smartphone to feature a 108 MP camera sensor. While the Mi Note 10 is a fine piece of hardware, we weren't quite sold on its €549 MSRP (US$610).
Thankfully, it's Black Friday, and deals are the order of the day. The Mi Note 10 can now be had for as low as US$466.29 on Gearbest. That's a whopping US$140 off its regular retail price, or a circa 22% discount for the math guys.
At US$610, we considered the Mi Note 10 a purchase that we wouldn't recommend. At US$466, though? It's an excellent buy. You get a solidly built phone with impressive, versatile cameras, a beautiful display and design, a massive 5260 mAh battery, a capable SoC, and 30W fast-charge. What's not to love?
To get the discount, just apply the code GBXMNT10BF at checkout.