AIDA64 adds support for 7 nm AMD Vermeer and Renoir processors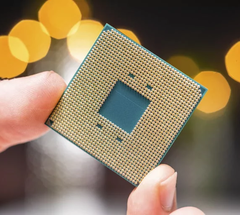 Popular diagnostic tool AIDA64 has been updated for the arrival of 2020 processors, namely AMD Ryzen 4000 "Vermeer" and "Renoir" processors. The desktop and mobile chips are due to arrive in Q3 and Q1 2020 respectively. Only the former will be making the jump to AMD's new Zen 3 architecture though, with Renoir being based on its existing Zen 2 architecture.
FinalWire Ltd, the company behind AIDA64, is already thinking ahead to next year. The company has added support for AMD Ryzen 4000 processors and Renoir APUs to the latest stable version of AIDA64, version 6.20.5300. We have included a screenshot of the full release notes for this build too, which also includes details for AMD and NVIDIA's latest GPUs.
Ryzen 4000 and Renoir processors are expected to arrive next year, with the latter possibly arriving as soon as January at CES 2020. Renoir is the codename for AMD's 4th generation Ryzen mobile processors, which it will base its 7 nm Zen 2 architecture. This is the same architecture on which the Ryzen 7 3700X and Ryzen 9 3900X are based, which we reviewed earlier this year.
Conversely, the Ryzen 4000 desktop series will debut AMD's new Zen 3 architecture. The series, codenamed Vermeer, is expected to arrive next summer. The company will then release its next-generation EPYC "Milan" processors, before unveiling 4th generation Ryzen Threadripper chips in Q4 2020.