Rumor | Leak reveals Warhol as codename for Zen 3-based 7nm AMD Ryzen 5000 processors; Navi iGPUs might be implemented in Zen 4-based 5nm Ryzen 6000 Raphael series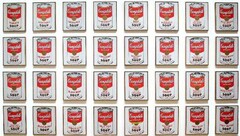 There have been some interesting AMD-related leaks lately, including a potential roadmap for Team Red and a rumor about the company using a 5nm process for the Ryzen 4000 desktop CPUs ("Vermeer"). However, if the latest leak is accurate it would pour cold water over the idea that AMD and TSMC are gearing up to offer 5nm Ryzen 4000 processors.
Obviously, like all leaks this has to be taken with a healthy amount of skepticism. The source is from a Twitter account for MebiuW and features an alleged screenshot of an AMD roadmap (the relevant tweet has now been deleted). The image (see below) mentions Warhol along with the Zen 3, 7nm, and PCIe4 details stated above. It's clear to see the next portion likely refers to "Raphael".
Placed in tandem with the roadmap of AMD parts, this would put Ryzen 5000 Warhol neatly between Ryzen 4000 Vermeer and Ryzen 6000 Raphael. In another tweet, MebiuW has reiterated that Warhol is Zen 3/7nm while Raphael will be Zen 4/5nm based. Interestingly enough, the letters "Nav" can be seen in the Raphael box, which could indicate that Ryzen 6000 mainstream desktop processors may feature a Navi-based iGPU.
With Vermeer planned for 2020 and the somewhat potentially intimidating Ryzen 6000 Raphael series possibly penciled in for 2022, this would leave 2021 as the convenient timeframe for AMD to launch the Ryzen 5000 Warhol series. "Warhol" is named after the artist Andy Warhol, who is renowned for his pop art paintings such as the Marilyn Diptych and Campbell's Soup Cans.
Matisse 2/7
Vermeer 3/7
Warhol 3/7
Raphael 4/5

— MebiuW (@MebiuW) May 28, 2020
My interest in technology began after I was presented with an Atari 800XL home computer in the mid-1980s. I especially enjoy writing about technological advances, compelling rumors, and intriguing tech-related leaks. I have a degree in International Relations and Strategic Studies and count my family, reading, writing, and travel as the main passions of my life. I have been with Notebookcheck since 2012.