Codename Vermeer: AMD's Ryzen 4000 desktop processors could be released in September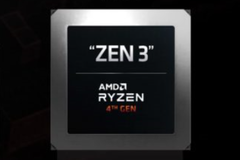 A new report has stated that AMD's highly anticipated Vermeer family of Ryzen 4000 desktop processors could be released around September this year. The latest series of AMD desktop CPUs is based on Zen 3 microarchitecture, with the chips expected to be manufactured on an improved 7nm+ process. AMD CEO Lisa Su has already hinted at this release timeframe.
An article from DigiTimes (reported via Tom's Hardware) has stated that AMD Ryzen 4000 desktop processors are still on course for release sometime around September. There has been speculation that the Vermeer series of Zen 3-based CPUs could be unveiled at the rescheduled Computex event, which is currently penciled in for September 28-30.
AMD's Renoir family of Ryzen 4000 APUs (Zen 2) has been making great waves in the mobile processor market recently, so it's unsurprising that a lot more will be expected from the Ryzen 4000 desktop CPUs (Zen 3). AMD is believed to be working with the semiconductor foundry TSMC, with Vermeer chips apparently utilizing an enhanced 7nm manufacturing process (7nm+).
The Zen 3 microarchitecture from AMD is expected to bring worthwhile improvements over the Zen 2 predecessor. Higher clock speeds and up to 15% IPC (instructions per cycle) gains have been mentioned as just a couple of the advantages Vermeer will have over its Matisse predecessors. If Ryzen 4000 desktop CPUs can greatly outperform giants like the Ryzen 9 3900X and Ryzen 9 3950X then the end of the year is going to be an exciting time for desktop PC builders and enthusiasts.