Rumor | AMD Ryzen 6000 Warhol could hit 5 GHz with 9-12% gains over Zen 3 to take on Alder Lake; Ryzen 7000 Raphael may offer up to 45% higher IPC than Zen 2 to maintain leads over Raptor Lake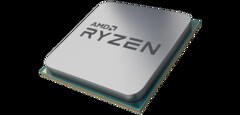 We have been hearing about AMD's roadmap for 2021-22 via various leaks for quite some time now. Among the many processor generations that have been indicated so far, Warhol and Raphael seem to be quite intriguing. Though we already have some early information on what to expect with Warhol and Raphael, we are now getting to know what could be the likely gains in upgrading to these CPUs.
This information comes via Paul from RedGamingTech, who happens to have received some information about possible IPC and performance gains that can be expected in upgrading to Warhol and Raphael.
For those not in the know, Warhol is speculated to be a 6 nm part set to launch in Q4 2021 and is more of a Zen 3 Refresh than anything radically new. In all likelihood, it will support the current AM4 motherboard platforms and feature-set but for a modest increase in IPC.
RedGamingTech cites sources who claim that AMD may hit the 5 GHz mark this time with Ryzen 6000 Warhol. Warhol may also offer a fairly significant performance bump — to the tune of 9% in general and up to 12% in some applications — compared to what we've seen with previous Zen refreshes.
Warhol's major competition would be with Alder Lake, which is not only slated to bring support for DDR5 and PCIe Gen 5 but also IPC improvements between 20 t0 25% on the big Golden Cove cores over Willow Cove. Information is still scarce, but current rumors seem to indicate that it will be a tough contest between Warhol and Alder Lake at least with respect to gaming — this is assuming Intel can offer good clocks on these hybrid processors.
Coming to Zen 4 Raphael Ryzen 7000, Paul feels that the core count for mainstream will continue to top-out at 16 cores and 32 threads. However, we might see a 40-45% performance increase from Zen 2 to Zen 4 owing to DDR5 memory, the 5 nm process, and possibly improvements to the cache, branch prediction, etc.
Such a significant IPC increase, if true, could put a lot of pressure on Intel. This is still speculation for now, but it looks like Alder Lake, and even its successor Raptor Lake, may find it tough to keep pace with Raphael Ryzen 7000.
Again, all this depends on what specific improvements can Intel bring about with both these hybrid CPU generations. The grapevine is that Alder Lake will definitely show some good IPC gains over the ageing Skylake architecture, but the kind of clocks that Intel can eke out from these hybrid CPUs is still anybody's guess at this point.
Though a cell and molecular biologist by training, I have been drawn towards computers from a very young age ever since I got my first PC in 1998. My passion for technology grew quite exponentially with the times, and it has been an incredible experience from being a much solicited source for tech advice and troubleshooting among family and friends to joining Notebookcheck in 2017 as a professional tech journalist. Now, I am a Lead Editor at Notebookcheck covering news and reviews encompassing a wide gamut of the technology landscape for Indian and global audiences. When I am not hunting for the next big story or taking complex measurements for reviews, you can find me unwinding to a nice read, listening to some soulful music, or trying out a new game.