Ryzen 9 3900X claims wPrime world record from Core i9-7920X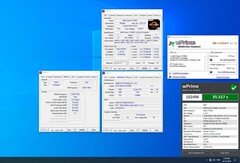 The wPrime 1024M benchmark has a new world record holder. An AMD Ryzen 9 3900X owned by user jordan.hyde99 claimed the fastest time in the benchmark for a 12-core CPU this weekend, besting the Intel Core i9-7920X. Perhaps more impressive is the fact that the Ryzen 9 3900X was clocked 330 MHz lower than the 7920X.
AMD claimed yet another win against Intel, this time nabbing a world record in one of the most popular CPU benchmarks. Australian overclocker jordan.hyde99 set a new wPrime world record with his Ryzen 9 3900X. What's even more impressive is that he did it with a lower clock than the previous record holder.
The former world-record holder was a 12-core, 24-thread Intel Core i9-7920X, which managed to complete wPrime's 1024M benchmark in 35.693 seconds. To crunch those numbers that quickly, the 7920X was overclocked to 5.955 GHz. The Ryzen 9 3900X, which also has 12 cores and 24 threads, was overclocked, but only to 5.625 GHz. It still edged out the Core i9-7920X by completing the benchmark in 35.517 seconds.
AMD's journey over the past few years has been remarkable. The company has come a long way from the FX-8350, which was once seen as a heavily compromised "budget" CPU, to build some of the fastest processors on the market while still keeping pricing competitive.