Maxtang releases fanless mini PC powered by laptop-grade Ryzen 5 2500U CPU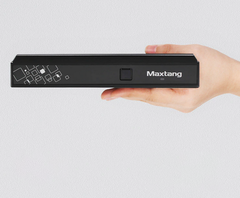 AMD wants to build a mini PC ecosystem around its embedded R1000 and V1000 CPUs, but some OEMs like Maxtang want to offer more performance through laptop-grade CPU implementation. In spite of the more powerful Ryzen 5 2500U CPU, the Maxtang VHFP30 comes in a slim fanless case that can accommodate up to 8 GB of DDR4 RAM, up to a 512 GB SSD plus a 2.5-inch HDD.
Just a few years ago, the mini PC market was clearly dominated by Intel, but, with the introduction of the Zen architecture, especially the Zen+ iteration from 2018, AMD is proving that its solutions can provide decent competition in the small form-factor markets. AMD recommends the use of R1000 and V1000 embedded processors for its partners, but there are OEMs like Maxtang that are willing to push the performance envelope with mini PCs powered by laptop-grade AMD CPUs.

Maxtang's new VHFP30 system is longer than your usual hand-sized mini PC, yet it is also much slimmer, despite it having aluminum heat dissipation fins on top for fanless operation. The barebones kit comes with a Ryzen 5 2500U 4-core/8-thread CPU and integrated Vega 8 GPU, yet it does not include RAM and storage. The base model is now available on AliExpress for only US$354, and Maxtang also provides versions that include up to 8 GB of DDR4 RAM and up to one 512 GB SSD for around US$520. Users can easily replace the RAM and SSD, plus there is the option to add a 2.5-inch HDD.

As far as connectors are concerned, the VHFP30 mini PC comes with 1x USB-C 3.1 / 2x USB-A 3.0 / 4x USB-A 2.0 ports, mic and headphone jacks, HDMI and DisplayPort outputs, serial port, and dual GbE NICs with WiFi / Bluetooth support. The product images also show a SIM card slot, although the spec sheet does not mention this feature.

It is clear that laptop-grade CPUs can easily fit in mini PCs this size, so we can expect to see more powerful builds with slightly bulkier cases in the near future.