Skylake-X Intel Core i9-9990XE CPU now available for €2,999 or snap up an i9-9990XE-based desktop PC for €12,999.90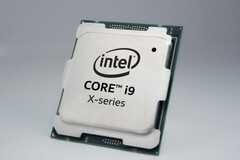 The extreme edition Intel Core i9-9990XE is now available for direct sale, but it doesn't come cheaply. German computer hardware specialist CaseKing.de has decided to make the powerful chip available to customers for a starting price of €2,999 (~US$3,384). If you want to buy a system that already has the chip installed, there is one currently available for €12,999.90 (~US$14,671).
If you think the high-end 9th Gen Coffee Lake i9-9900K processor is a bit pricey then take a look at its X-series stable-mate. Intel originally planned that the Skylake-X i9-9990XE chip would be auctioned off to OEMs and possibly used in the finance industry. However, it seems CaseKing.de has different ideas and wants to offer the extreme chip to its customers, as long as they have nearly €3,000 spare.
You do get a considerable amount of bang for the buck though, which is good news for those willing to break their bank manager's heart in exchange for an i9-9990XE. There are 14 cores and 28 threads of processing ability on hand for a start, and the extreme edition CPU offers clock rates from 4.0 GHz all the way up to 5.1 GHz. Users can rely on 14 MB L2 cache and 19.25 MB L3 cache and the desktop processor has a very high TDP of 255 W.
CaseKing.de has also created a desktop system based around the Intel Core i9-9990XE. The PC is a dual behemoth as it also features a secondary system that contains an i5-9600K chip. Overclockers, gamers, and streamers with nearly €13,000 handy will get to enjoy the two CPUs along with an Nvidia RTX 2080 Ti graphics card (primary system), 64 GB (primary system) + 16 GB (secondary system) RAM, two NVMe SSDs, two Asus ROG motherboards (different variants), water cooling, and a very fancy tempered-glass tower so you can watch the components at work.