Apple and Qualcomm end hostilities with 5G deal, force Intel to exit mobile 5G modem business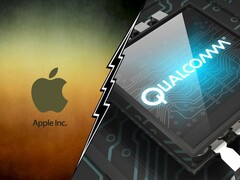 Surprisingly enough, Apple not only decided to drop all charges regarding Qualcomm's unfair patent licensing practices, but the Cupertino company agreed to pay Qualcomm an undisclosed sum, as well. The unexpected settlement comes with additional agreements that make Qualcomm the only 5G modem supplier for the 2020 iPhone models, which immediately prompted Intel to announce its exit from the mobile 5G modem business.
Back in 2017, Apple was suing Qualcomm for US$1 billion over unfair patent licensing practices, and the two companies immediately ceased any collaboration involving 4G LTE technologies. Meanwhile, Apple arranged an agreement with Intel in order to supply the necessary 4G LTE modems found in all 2018 iPhone models, and the Santa Clara giant was also supposed to equip Apple's 2020 5G-ready iPhone models with the latest XMM 8160 chips. However, Apple and Qualcomm recently agreed to drop all litigations and struck an agreement regarding future 5G technologies, prompting Intel to announce its exit from the mobile 5G modem business.

Intel did not mention anything about Apple in its official announcement, as CEO Bob Swan only stated that the company is "very excited about the opportunity in 5G and the 'cloudification' of the network, but in the smartphone modem business it has become apparent that there is no clear path to profitability and positive returns." For the time being, the company is only interested in providing 4G and 5G modems for PCs, IoT and data-centric devices, and "will continue to invest in its 5G network infrastructure business."

Regarding the abrupt settlement between Apple and Qualcomm, it turns out that Apple accepted to pay Qualcomm an undisclosed sum. Moreover, the two companies struck a six-year license agreement and a multiyear chipset supply agreement, essentially confirming that the upcoming iPhone models will include standalone or SoC-integrated 5G modems from Qualcomm.