AMD leads Amazon's top 10 CPU best sellers with 9 out of 10 entries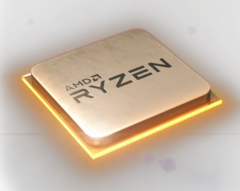 Intel manages to snag the 10th position with the Core i5-9600K, while AMD's models are mostly mid-range CPUs from the 2000 and 3000 series. Thanks to the latest Black Friday deals, the Ryzen 7 2700X occupies the first position with a US$159 price tag. Despite very low supplies, the Ryzen 9 9800X is also featured in the 6th place.
AMD managed to completely change the CPU market dynamics with the introduction of the Zen microarchitecture back in 2017. With the second gen Ryzen CPUs, AMD even managed to outsell the Intel competition for the first time in years, and the market share slowly started to climb to the point where the red team now controls more than 18% globally, with notable recent gains in the Japanese and European markets. This is also a direct consequence to Intel's CPU shortages that lead quite a few OEMs to compensate for the missing supplies with AMD's offers. The fact that AMD was first to deliver 7 nm CPUs also helped. Now that Black Friday deals are in full effect, AMD is completely dominating the top 10 Amazon CPU best sellers, as its models occupy positions 1 through 9.

To further prove that the second gen Ryzens constituted the tipping point for AMD's success, the Ryzen 7 2700X is currently the top best-selling CPU on Amazon, with a very enticing US$159 price tag. Intel's only top 10 CPU is the i5-9600K occupying the 10th place, currently selling for US$222.99. The i9-9900K is occupying the 11th position, and most of the AMD CPUs are mid-range models. Here is the complete top 10 list:
AMD Ryzen 7 2700X - US$159
AMD Ryzen 5 3600X - SU$199.99
AMD Ryzen 7 3800X - US$329.99
AMD Ryzen 5 2600 - US$114.99
AMD Ryzen 7 3700X - US$309.99
AMD Ryzen 9 3900X - US$499.99
AMD Ryzen 5 2600X - US$119.99
AMD Ryzen 5 3600 - US$194
AMD Ryzen 7 2700 - US$139.99
Intel Core i5-9600K - US$222.99
Working For Notebookcheck
Are you a techie who knows how to write? Then join our Team! Especially English native speakers welcome!
Currently wanted:
News and Editorial Editor - Details here