Intel Core i9-9900KFC processor mentioned in AIDA64 beta release notes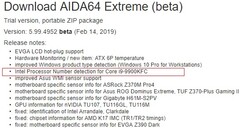 At first sight, the Intel Core i9-9900KFC seems to be an unlocked 8-core, 16-thread processor that does not feature an integrated graphics card. However, Intel previously used the "C" suffix for chips with eDRAM cache for the higher-end Iris Pro integrated graphics parts, so this new chip is a mystery for now.
Priced at US$488, the Intel Core i9-9900K and its first revision, the i9-9900KF, are basically the same chip, but the KF lacks the integrated graphics part (or simply had it disabled, of course). These two chips were succeeded by the Intel Core i9-9900T, which is obviously a low-power variant with much lower clock speeds, but with integrated graphics. Now, it seems that a "KFC" variant is in the cards.
Now, the big question regarding the new chip concerns its suffix. All KF models introduced recently by Intel were the same as their K-only siblings but without an integrated graphics processor. The "C" suffix was used back in the Broadwell days when it labeled processors that came with an eDRAM cache module that would increase the performance of the integrated Iris Pro graphics chips.
Considering all the above, we can only assume that the Intel Core i9-9900KFC — which obviously has nothing to do with Kentucky Fried Chicken — will be an improved i9-9900KF that features an eDRAM module for increased performance. Remains to see if this module will act as a buffer between the L3 cache and the CPU or as an L4 cache memory. Obviously, it could also be something completely different — for example, nothing more than a typo in the release notes for AIDA64 Extreme 5.99.4952 beta.
Do you have any other idea about what this Intel Core i9-9900KFC could be? Let us know in the comments below.