Upcoming NVIDIA GTX 1650 and Intel Core i7-9750H make an appearance on 3DMark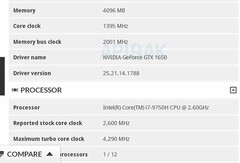 The rumored NVIDIA GeForce GTX 1650 has popped up in a leaked 3DMark entry that also lists the upcoming 9th gen Intel Core i7-9750H CPU. Not much information is evident from the entry itself, which lists just the core and memory clocks. We do, however, get to confirm that the card will feature 4 GB of RAM, which in all probability is GDDR5.
We've been hearing rumors about the NVIDIA GeForce GTX 1650 for quite some time and now, a 3DMark entry has surfaced that shows not only the GPU and memory clocks of the GTX 1650, but also mentions the upcoming Intel Core i7-9750H CPU. The entry was uncovered by famed leakster TUM_APISAK.
The 3DMark entry shows the GTX 1650 to sport a 1,395 MHz base clock and a memory clock of 2,001 MHz. The GTX 1650 is touted to be the successor to the GTX 1050 and we expect the GPU to be equipped with 4 GB of GDDR5 memory with a 128 GBps memory bandwidth. Not the best option in 2019 but that's what we'll be getting in all probability.
Also, similar to the newly launched GTX 1660 Ti, the GTX 1650 will also feature a Turing core devoid of any ray tracing or DLSS features. Rumors point to a TU117 core but some sources say the GTX 1650 could instead feature a TU107 core featuring anywhere between 896 to 1024 CUDA cores. We are not sure if there is any RTX 2050 cooking at this point at NVIDIA so it is difficult to ascertain at this moment whether the GTX 1650 will be based on a TU117 or a TU107 GPU core.
References to the 9th generation H-series CPUs were recently seen in an Intel document and the benchmark shows the system running on an hexa-core Intel Core i7-9750H with a base clock of 2.6 GHz and a boost clock up to 4.29 GHz. We expected an 8 core 8 thread part for this SKU but apparently, it seems to be a 6 core 12 thread processor. However, do take this information with a pinch of salt as we still do not have confirmation about the specifications of the upcoming 9th gen H-series chips.
Industry sources claim an April 30 release for the NVIDIA GTX 1650. However, Videocardz reports a late March release with an MSRP of US$179. On the other hand, we expect Intel to announce their H-series processors sometime in June in time for Computex 2019. Therefore, the model featured in this leak could be an early engineering sample.