Nvidia outselling AMD GPUs by a ratio of 4 to 1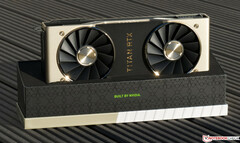 Although Nvidia mightn't have sold as many RTX 20-series GPUs as it would like, it is still running rings around its chief competitor, AMD. The latest analyst estimates show that for every 4 GPUs Nvidia sells AMD only sells one.
With the sharp decline in crypto mining, the boom that both Nvidia and AMD enjoyed in GPU sales is over, at least for the time being. The recent launch of Nvidia's next-generation RTX 20-series GPUs in Q4, the first to market with real-time ray tracing capabilities, hasn't helped arrest the slide as much as it would have liked, although they are markedly more expensive which could have put off some potential buyers. Similarly, AMD's discounting of its own cards didn't help offset the gains that Nvidia made on it at the end of 2018.
New data from Jon Peddie Research from Q4 of 2018 shows that Nvidia took an 81.2% share of the GPU market reducing AMD to just an 18.8% share. In the previous quarter AMD held a 25.6% share, highlighting a reversal in its fortunes that it hopes its new Radeon VII GPUs will help arrest. Although the first GPU to hit the market fabricated on a 7nm node, AMD is still trailing Nvidia when it comes to real-time ray tracing tech.
According to Jon Peddie Research, the total value of GPU shipments in Q4 totalled over US$2.8 billion. However, this represented a 10.7% decline in shipments from Q3. As an illustration of just how much the bottom fell out of the GPU market with the decline in the value of crypto currencies, the Q4 figures were a monumental decline of 40.2% year-over-year. Nvidia could boost shipments by dropping RTX prices, while AMD customers could be holding off and waiting for the launch of its Navi-based GPUs expected later this year.