Nvidia to discontinue support for 3D Vision in next GPU driver update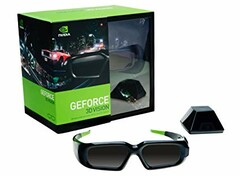 Since 3D glasses have mostly been replaced by VR headsets and TV makers already removed all 3D features from their products, Nvidia has decided that its 3D Vision tech is not cutting it anymore. The last driver to support this technology will be released with the GeForce Game Ready suite this April.
Remember when TVs and LCD monitors supporting 3D glasses were the next best thing? Even Nvidia recognized the potential of such a technology back in 2008 and decided to release its own 3D glasses compatible with select TVs, monitors and projectors along with a special 3D Vision driver. Granted, this technology is still a thing in cinemas, but the appeal of 3D glasses gradually faded in the past several years, as screen makers like Samsung, LG, Sony and Panasonic eventually stopped releasing home theater or gaming products that support any 3D features.

The problem with 3D glasses is that it requires double the refresh rate of a regular screen, so display makers had to use 120 Hz panels to enable 60 Hz stereoscopy for each eye. Similarly, Nvidia's 3D glasses have lenses synced to 60 Hz, and the 3D Vision software converts gaming visuals into stereoscopic information, but there are some shortcomings here, as well. First of all, the GPUs need to render twice as many frames, so the performance is essentially halved. Then there are the headaches that may come with prolonged usage of the 3D glasses. Lastly, since there is no hardware processing involved, there is the possibility of getting double-image artifacts and ghosting.

Nvidia is also offering support for VR headsets that are very similar in nature to 3D glasses. However, VR is seeing considerably more adoption these days compared to the 3D glasses approach, and thus, Nvidia has decided to stop supporting 3D Vision in future driver releases. The last drivers to get updated 3D Vision support will be GeForce Game Ready version 418 releasing in April.