Overall GPU shipments down for Nvidia, AMD, and Intel in Q4 2018 but laptop GPU shipments rise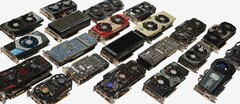 John Peddie Research has released its review of the GPU market for Q4 2018. Overall GPU shipments were down by 2.65% from the previous quarter, with Nvidia shipments decreasing by 7.62%, AMD's by 6.81%, and Intel's GPU shipments falling by 0.67%. However, GPU shipments for notebooks increased as the cryptocurrency crash continued to affect desktop GPU demand.
Both Nvidia and AMD witnessed considerable falls in discrete GPU shipments for the fourth quarter of 2018. According to the report from John Peddie Research (JPR), the green team shipped 7.62% fewer GPUs for the quarter and the red team's shipments dropped by a similar level (6.81%). In contrast, Intel's shipments dipped by only 0.67%.
In terms of market share, the quarter wasn't too bad for Intel. While Nvidia's market share dropped by 0.82% and AMD's fell by 0.6%, the blue team soaked up the misfortunes of its rivals and enjoyed increased market share of 1.4%. The JPR report also states that discrete GPUs could be found in 27.78% of PCs.
The year-to-year changes show just how the cryptocurrency craze and its subsequent crash affected GPU shipments. Overall shipments were down by 3.3%, but while desktop GPU shipments plummeted by 20%, laptop GPU shipments actually grew by 8%. It seems retailers are now sitting on an excessive amount of desktop GPUs that are no longer required for mining cryptocurrency.