AMD Adrenalin software now live across all Ryzen, Vega, and Radeon PCs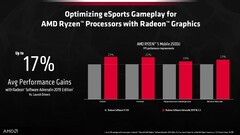 The Adrenalin 2019 Edition unifies Radeon and Vega GPUs under a single software umbrella for faster updates. Owners of Kaby Lake-G laptops and NUCs, however, will be out of luck.
It's generally accepted in the gaming community that Nvidia drivers are traditionally more up-to-date and optimized for the latest PC titles when compared to AMD. The red chipmaker knows this all too well and it directly addressed these concerns at CES 2019 by announcing the Adrenalin software for Ryzen PCs running on Vega GPUs. The software is now ready for download via the official AMD support page here.
Previously, the Adrenalin software was exclusive to the Radeon series. By expanding it to include integrated Vega GPUs, AMD can now release "day-zero" drivers, fixes, and updates across all of its consumer GPU families faster and more easily. The first version of Adrenalin for Ryzen PCs already promises increased performance on popular titles like CS:GO, Fortnite, PUBG, and WoW to incentivize early adopters.
Note that PCs sporting Kaby Lake-G processors will be excluded from Adrenalin despite the fact that they carry AMD Vega GPUs. When asked why, AMD said that these custom Vega GPUs were commissioned by Intel and so Intel would be responsible for any drivers and updates related to the Kaby Lake-G platform. While unsurprising, it's a bit disappointing because the Vega M GL and Vega M GH are some of the fastest custom AMD GPUs in the market.
More information on Adrenalin can be found here.