Dell might have just accidentally leaked either an Nvidia GeForce GTX 2050 or even an RTX 2050 GPU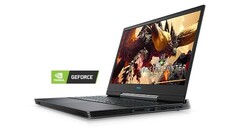 The existence of an Nvidia GeForce RTX 2050 or GTX 2050 graphics card may have just been revealed by Dell. A new laptop GPU from the green team is expected to be released in the not too distant future, but speculation has been based on a non-RTX branded product. It is possible the Texas-based computer giant has made an assumption or even made a typo.
Information spotted by an eagle-eyed Notebookcheck reader has led to the possibility that there could be a new addition to Nvidia's RTX line-up coming soon. While checking through the details of a Dell G5 15 Gaming Laptop, a closer inspection of the "Ports & Slots" section offers up a surprising revelation. The #9 port is described as "USB-C DisplayPort/ USB-C Thunderbolt*". By clicking on that little innocuous asterisk, our reader was rewarded with this intriguing nugget of information:
Of course, it would be easy to jump to conclusions here, so it's important to consider a number of factors before deciding if Nvidia is planning on treating us with a ray-tracing, Tensor-core-possessing RTX 2050 graphics card. Firstly, it could be an assumption made by Dell over the name of the next GPU Nvidia is going to reveal. Secondly, it could also be a simple typing error – although this could still reveal some interesting information in itself: It's possible "RTX 2050" should have been "GTX 2050".
Naturally, if it is an accidental reveal of an upcoming GTX 2050, then there is reason to be arguably disappointed or surprised. The disappointment (for some) would be that a GeForce GTX 2050 would not have the cutting-edge RTX technologies mentioned above. The potential surprise would be that we have been expecting a new laptop GPU from Nvidia, and this could actually be the mobile version of the recently released GTX 1660 Ti, which we have guessed could be branded as the GTX 2050.
But there is one more little twist that could lead us back to the excitement of a potential upcoming RTX 2050. The codenames for the RTX 2060, 2070, and 2080 were "N18E-G1", "N18E-G2", and "N18E-G3", respectively. We already know there is a laptop GPU with the codename "N18E-G0" – logic could point to this being an RTX 2050 graphics card. Hopefully, Nvidia will solve this mystery for us soon.