The performance of RTX 2080 Max-Q laptops may vary substantially depending on TDP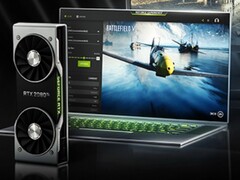 If you plan on purchasing an RTX 2080 Max-Q laptop, you should pay special attention to the TDP version. The reason: According to our benchmarks, the performance gap can be quite substantial.
As it turns out, there are not only two versions of the GeForce RTX 2070 Max-Q (detailed here), but there are also two versions of the GeForce RTX 2080 Max-Q, which vary primarily in TDP and clock rates. While the 80-watt edition is rated for 735 to 1095 MHz (for example in the Acer Predator Triton 500), the 90-watt edition clocks at 990 to 1230 MHz (for example in the Asus ROG Zephyrus S GX701GX). In the following extended series of tests, we evaluate the performance impact of these differences.
Working For Notebookcheck
Are you a techie who knows how to write? Then join our Team! Especially English native speakers welcome!
Currently wanted:
News and Editorial Editor - Details here

Synthetic benchmarks
3DMark
2560x1440 Port Royal Graphics
Asus Zephyrus S GX701GX


GeForce RTX 2080 Max-Q, 8750H

Acer Triton 500


GeForce RTX 2080 Max-Q, 8750H

2560x1440 Time Spy Graphics
Asus Zephyrus S GX701GX


GeForce RTX 2080 Max-Q, 8750H

Acer Triton 500


GeForce RTX 2080 Max-Q, 8750H

1920x1080 Fire Strike Graphics
Asus Zephyrus S GX701GX


GeForce RTX 2080 Max-Q, 8750H

Acer Triton 500


GeForce RTX 2080 Max-Q, 8750H
3DMark 11 - 1280x720 Performance GPU
Asus Zephyrus S GX701GX


GeForce RTX 2080 Max-Q, 8750H

Acer Triton 500


GeForce RTX 2080 Max-Q, 8750H
Gaming benchmarks
Shadow of the Tomb Raider
3840x2160 Highest Preset AA:T
Asus Zephyrus S GX701GX


GeForce RTX 2080 Max-Q, 8750H

Acer Triton 500


GeForce RTX 2080 Max-Q, 8750H

2560x1440 Highest Preset AA:T
Asus Zephyrus S GX701GX


GeForce RTX 2080 Max-Q, 8750H

Acer Triton 500


GeForce RTX 2080 Max-Q, 8750H

1920x1080 Highest Preset AA:T
Asus Zephyrus S GX701GX


GeForce RTX 2080 Max-Q, 8750H

Acer Triton 500


GeForce RTX 2080 Max-Q, 8750H
Battlefield V
1920x1080 Ultra Preset DXR
Asus Zephyrus S GX701GX


GeForce RTX 2080 Max-Q, 8750H

Acer Triton 500


GeForce RTX 2080 Max-Q, 8750H

3840x2160 Ultra Preset
Asus Zephyrus S GX701GX


GeForce RTX 2080 Max-Q, 8750H

Acer Triton 500


GeForce RTX 2080 Max-Q, 8750H

2560x1440 Ultra Preset
Asus Zephyrus S GX701GX


GeForce RTX 2080 Max-Q, 8750H

Acer Triton 500


GeForce RTX 2080 Max-Q, 8750H

1920x1080 Ultra Preset
Asus Zephyrus S GX701GX


GeForce RTX 2080 Max-Q, 8750H

Acer Triton 500


GeForce RTX 2080 Max-Q, 8750H
FIFA 19
3840x2160 Ultra Preset AA:4x MS
Asus Zephyrus S GX701GX


GeForce RTX 2080 Max-Q, 8750H

Acer Triton 500


GeForce RTX 2080 Max-Q, 8750H

2560x1440 Ultra Preset AA:4x MS
Asus Zephyrus S GX701GX


GeForce RTX 2080 Max-Q, 8750H

Acer Triton 500


GeForce RTX 2080 Max-Q, 8750H

1920x1080 Ultra Preset AA:4x MS
Asus Zephyrus S GX701GX


GeForce RTX 2080 Max-Q, 8750H

Acer Triton 500


GeForce RTX 2080 Max-Q, 8750H
Star Wars Battlefront 2
3840x2160 Ultra Preset
Asus Zephyrus S GX701GX


GeForce RTX 2080 Max-Q, 8750H

Acer Triton 500


GeForce RTX 2080 Max-Q, 8750H

2560x1440 Ultra Preset
Asus Zephyrus S GX701GX


GeForce RTX 2080 Max-Q, 8750H

Acer Triton 500


GeForce RTX 2080 Max-Q, 8750H

1920x1080 Ultra Preset
Asus Zephyrus S GX701GX


GeForce RTX 2080 Max-Q, 8750H

Acer Triton 500


GeForce RTX 2080 Max-Q, 8750H
Need for Speed Payback
3840x2160 Ultra Preset
Asus Zephyrus S GX701GX


GeForce RTX 2080 Max-Q, 8750H

Acer Triton 500


GeForce RTX 2080 Max-Q, 8750H

2560x1440 Ultra Preset
Asus Zephyrus S GX701GX


GeForce RTX 2080 Max-Q, 8750H

Acer Triton 500


GeForce RTX 2080 Max-Q, 8750H

1920x1080 Ultra Preset
Asus Zephyrus S GX701GX


GeForce RTX 2080 Max-Q, 8750H

Acer Triton 500


GeForce RTX 2080 Max-Q, 8750H
Fortnite
3840x2160 Epic Preset
Asus Zephyrus S GX701GX


GeForce RTX 2080 Max-Q, 8750H

Acer Triton 500


GeForce RTX 2080 Max-Q, 8750H

2560x1440 Epic Preset
Asus Zephyrus S GX701GX


GeForce RTX 2080 Max-Q, 8750H

Acer Triton 500


GeForce RTX 2080 Max-Q, 8750H

1920x1080 Epic Preset
Asus Zephyrus S GX701GX


GeForce RTX 2080 Max-Q, 8750H

Acer Triton 500


GeForce RTX 2080 Max-Q, 8750H
Call of Duty Black Ops 4
3840x2160 Very High / On
Asus Zephyrus S GX701GX


GeForce RTX 2080 Max-Q, 8750H

Acer Triton 500


GeForce RTX 2080 Max-Q, 8750H

2560x1440 Very High / On
Asus Zephyrus S GX701GX


GeForce RTX 2080 Max-Q, 8750H

Acer Triton 500


GeForce RTX 2080 Max-Q, 8750H

1920x1080 Very High / On
Asus Zephyrus S GX701GX


GeForce RTX 2080 Max-Q, 8750H

Acer Triton 500


GeForce RTX 2080 Max-Q, 8750H
Assassin´s Creed Odyssey
3840x2160 Ultra High Preset
Asus Zephyrus S GX701GX


GeForce RTX 2080 Max-Q, 8750H

Acer Triton 500


GeForce RTX 2080 Max-Q, 8750H

2560x1440 Ultra High Preset
Asus Zephyrus S GX701GX


GeForce RTX 2080 Max-Q, 8750H

Acer Triton 500


GeForce RTX 2080 Max-Q, 8750H

1920x1080 Ultra High Preset
Asus Zephyrus S GX701GX


GeForce RTX 2080 Max-Q, 8750H

Acer Triton 500


GeForce RTX 2080 Max-Q, 8750H
Far Cry 5
3840x2160 Ultra Preset AA:T
Asus Zephyrus S GX701GX


GeForce RTX 2080 Max-Q, 8750H

Acer Triton 500


GeForce RTX 2080 Max-Q, 8750H

2560x1440 Ultra Preset AA:T
Asus Zephyrus S GX701GX


GeForce RTX 2080 Max-Q, 8750H

Acer Triton 500


GeForce RTX 2080 Max-Q, 8750H

1920x1080 Ultra Preset AA:T
Asus Zephyrus S GX701GX


GeForce RTX 2080 Max-Q, 8750H

Acer Triton 500


GeForce RTX 2080 Max-Q, 8750H
Middle-earth: Shadow of War
3840x2160 Ultra Preset AA:T
Asus Zephyrus S GX701GX


GeForce RTX 2080 Max-Q, 8750H

Acer Triton 500


GeForce RTX 2080 Max-Q, 8750H

2560x1440 Ultra Preset AA:T
Asus Zephyrus S GX701GX


GeForce RTX 2080 Max-Q, 8750H

Acer Triton 500


GeForce RTX 2080 Max-Q, 8750H

1920x1080 Ultra Preset AA:T
Asus Zephyrus S GX701GX


GeForce RTX 2080 Max-Q, 8750H

Acer Triton 500


GeForce RTX 2080 Max-Q, 8750H
F1 2018
3840x2160 Ultra High Preset AA:T AF:16x
Asus Zephyrus S GX701GX


GeForce RTX 2080 Max-Q, 8750H

Acer Triton 500


GeForce RTX 2080 Max-Q, 8750H

2560x1440 Ultra High Preset AA:T AF:16x
Asus Zephyrus S GX701GX


GeForce RTX 2080 Max-Q, 8750H

Acer Triton 500


GeForce RTX 2080 Max-Q, 8750H

1920x1080 Ultra High Preset AA:T AF:16x
Acer Triton 500


GeForce RTX 2080 Max-Q, 8750H

Asus Zephyrus S GX701GX


GeForce RTX 2080 Max-Q, 8750H
Darksiders III
3840x2160 Epic
Asus Zephyrus S GX701GX


GeForce RTX 2080 Max-Q, 8750H

Acer Triton 500


GeForce RTX 2080 Max-Q, 8750H

2560x1440 Epic
Asus Zephyrus S GX701GX


GeForce RTX 2080 Max-Q, 8750H

Acer Triton 500


GeForce RTX 2080 Max-Q, 8750H

1920x1080 Epic
Asus Zephyrus S GX701GX


GeForce RTX 2080 Max-Q, 8750H

Acer Triton 500


GeForce RTX 2080 Max-Q, 8750H
ELEX
3840x2160 Ultra / On AA:SM AF:16x
Asus Zephyrus S GX701GX


GeForce RTX 2080 Max-Q, 8750H

Acer Triton 500


GeForce RTX 2080 Max-Q, 8750H

2560x1440 Ultra / On AA:SM AF:16x
Asus Zephyrus S GX701GX


GeForce RTX 2080 Max-Q, 8750H

Acer Triton 500


GeForce RTX 2080 Max-Q, 8750H

1920x1080 Ultra / On AA:SM AF:16x
Asus Zephyrus S GX701GX


GeForce RTX 2080 Max-Q, 8750H

Acer Triton 500


GeForce RTX 2080 Max-Q, 8750H
Just Cause 4
3840x2160 Very High / On AA:SM AF:16x
Asus Zephyrus S GX701GX


GeForce RTX 2080 Max-Q, 8750H

Acer Triton 500


GeForce RTX 2080 Max-Q, 8750H

2560x1440 Very High / On AA:SM AF:16x
Asus Zephyrus S GX701GX


GeForce RTX 2080 Max-Q, 8750H

Acer Triton 500


GeForce RTX 2080 Max-Q, 8750H

1920x1080 Very High / On AA:SM AF:16x
Asus Zephyrus S GX701GX


GeForce RTX 2080 Max-Q, 8750H

Acer Triton 500


GeForce RTX 2080 Max-Q, 8750H
Monster Hunter World
3840x2160 Highest Preset (Image Quality High)
Asus Zephyrus S GX701GX


GeForce RTX 2080 Max-Q, 8750H

Acer Triton 500


GeForce RTX 2080 Max-Q, 8750H

2560x1440 Highest Preset (Image Quality High)
Asus Zephyrus S GX701GX


GeForce RTX 2080 Max-Q, 8750H

Acer Triton 500


GeForce RTX 2080 Max-Q, 8750H

1920x1080 Highest Preset (Image Quality High)
Asus Zephyrus S GX701GX


GeForce RTX 2080 Max-Q, 8750H

Acer Triton 500


GeForce RTX 2080 Max-Q, 8750H
Kingdom Come: Deliverance
3840x2160 Ultra High Preset
Asus Zephyrus S GX701GX


GeForce RTX 2080 Max-Q, 8750H

Acer Triton 500


GeForce RTX 2080 Max-Q, 8750H

2560x1440 Ultra High Preset
Acer Triton 500


GeForce RTX 2080 Max-Q, 8750H

Asus Zephyrus S GX701GX


GeForce RTX 2080 Max-Q, 8750H

1920x1080 Ultra High Preset
Asus Zephyrus S GX701GX


GeForce RTX 2080 Max-Q, 8750H

Acer Triton 500


GeForce RTX 2080 Max-Q, 8750H