Update | Not created equal — Razer Blade 15 RTX 2070 Max-Q is 10 to 15 percent faster than the Gigabyte Aero 15 X9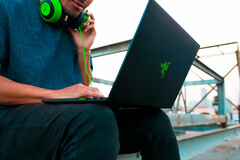 The GPU in the Razer laptop has a 22 percent faster base clock rate than the same GPU on the Gigabyte Aero 15 X9. The result? Consistently faster gaming performance on the Razer Blade 15 by 10 to 15 percent.
When Gigabyte announced the Aero 15 with Core i9 CPU and RTX 2080 GPU options, we expressed our suspicion about potential throttling issues because of the thin form factor. Now that we have both the Gigabyte Aero 15 X9 and Razer Blade 15 with the same RTX 2070 Max-Q GPU between them, we can compare the two to see if there are any differences in GPU power.
Right off the bat, we can see that the Gigabyte system is running its RTX 2070 Max-Q GPU at an 18 percent slower base clock rate than on the Razer Blade 15 (885 MHz vs. 1080 MHz) as shown by their respective GPU-Z screenshots below. The ramifications are observable through the 3DMark benchmarks below where the Blade 15 is able to outscore the Aero 15 X9 by double-digit percentage points in every single test including ray tracing.
Does this mean that Gigabyte is underclocking its GPU? Not necessarily, because the official Nvidia spec sheet for the RTX 2070 Max-Q lists a base clock rate of only 885 MHz — the same as what we've discovered on the Aero 15 X9. Instead, it's more like Razer has overclocked the GPU to give its Blade 15 that slight edge over the competition.
(February 11, 2019 update: We want to clarify that the Aero 15 X9 is not yet shipping to retailers while the Blade 15 has been available since late last month. Our specific Gigabyte unit is still running on beta drivers in contrast to our retail Razer unit. As such, we will revisit this comparison once the Aero 15 X9 comes to market with the appropriate public Nvidia drivers.)
(March 4, 2019 update: A more detailed and updated performance comparison between the Aero 15 X9 and the Razer Blade 15 can be found here.)
Working For Notebookcheck
Are you a techie who knows how to write? Then join our Team! Especially English native speakers welcome!
Currently wanted:
News and Editorial Editor - Details here

3DMark
2560x1440 Port Royal Graphics
Razer Blade 15 RTX 2070 Max-Q


NVIDIA GeForce RTX 2070 Max-Q, 8750H

Average NVIDIA GeForce RTX 2070 Max-Q


(3240 - 3921, n=15)
Gigabyte Aero 15 X9 (Dual Channel)


NVIDIA GeForce RTX 2070 Max-Q, 8750H

2560x1440 Time Spy Graphics
Razer Blade 15 RTX 2070 Max-Q


NVIDIA GeForce RTX 2070 Max-Q, 8750H

Average NVIDIA GeForce RTX 2070 Max-Q


(5948 - 7105, n=18)
Gigabyte Aero 15 X9 (Dual Channel)


NVIDIA GeForce RTX 2070 Max-Q, 8750H

3840x2160 Fire Strike Ultra Graphics
Razer Blade 15 RTX 2070 Max-Q


NVIDIA GeForce RTX 2070 Max-Q, 8750H

Average NVIDIA GeForce RTX 2070 Max-Q


(3752 - 4281, n=13)
1920x1080 Fire Strike Graphics
Razer Blade 15 RTX 2070 Max-Q


NVIDIA GeForce RTX 2070 Max-Q, 8750H

Average NVIDIA GeForce RTX 2070 Max-Q


(11563 - 20201, n=21)
Gigabyte Aero 15 X9 (Dual Channel)


NVIDIA GeForce RTX 2070 Max-Q, 8750H