Razer realignment forces layoffs; Razer Phone 3 possibly cancelled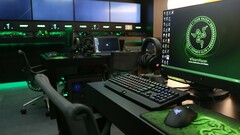 Razer has had to cut around 2% of its workforce due to "realignment." It's believed many of the staff that have been let go were involved with the company's smartphone products. The cuts could mean that any progress on the Razer Phone 3 device has been halted while the manufacturer streamlines its operations.
It's already been announced that Razer is closing down its Game Store, and now it seems that closure is part of the company's realignment plans. Droid Life has obtained statements from Razer that have confirmed about 30 employees have been laid off. Apparently, a significant amount of these employees worked in the mobile division.
Whether this means any work on a Razer Phone 3 will continue or not is unclear. The first statement Droid Life received could give the impression that it's unlikely there will be a successor to the impressive Razer Phone 2:
As part of the realignment, we shut down several projects and unfortunately had to part ways with about 30 employees (about 2% of our total workforce).
However, a second statement admits that the mobile division suffered from cuts and staff reassignments, but it gives hope to those who would like to see a third iteration of Razer's Phone:
We see great opportunities in the mobile gaming space that we created with the Razer Phone and will continue to invest in this category through a combination of hardware and software initiatives. We are working on new exciting mobile projects and will share the news when we are ready.
So an anonymous source claims the firm has cancelled the Razer Phone 3, but Razer's statement certainly implies there could be a future for the Razer Phone line-up yet. At least Razer Phone 2 owners will be pleased to learn that the company intends to carry on supporting the smartphone, which includes an update to Android Pie soon.