Leaked information about new Razer Blade 17 and Razer Blade 15 laptops points to 9th Gen Intel Core and GeForce RTX upgrades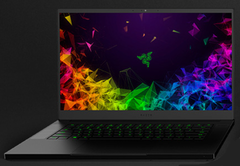 Details about a refreshed Razer Blade 17 and updated Razer Blade 15 have been accidentally leaked in a YouTube video review posted by tech site PCWorld. The video has now been taken down, but not before some apparent key specifications were shared online. The base model of the Razer Blade 15 is likely to get a GPU upgrade from an Nvidia GeForce GTX 1060 Max-Q to an RTX 2060.
A PCWorld video has been removed from YouTube after giving details about some changes to Razer's Blade 15 and Blade 17 laptops. A screenshot of the video description states "Razer Blade 17 refresh & Blade 15 updates," and it is still possible to find a web search description for the clip that reveals "9th Gen Intel CPUs and RTX GPUs" in the text.
Some of the supposed specifications have been shared on Reddit. According to the comments, the refreshed Razer Blade 17 will come with the above-mentioned Coffee Lake H Refresh CPU, which is believed to be the Intel Core i7-9750H, and there will be 16 GB RAM and 512 GB storage (SSD) available for the base version. GPU options have been mentioned as GeForce RTX 2060, RTX 2070 Max-Q, and RTX 2080 Max-Q.
An improved cooling solution is expected to be on board, and there may be an OLED panel option coming although this seemed unclear. Prices for the three GPU variants of the Razer Blade 17 were stated as: RTX 2060 – US$2,500; RTX 2070 Max-Q – US$2,800; RTX 2080 Max-Q – US$3,100.
The Razer Blade 15 seems to be getting updated with an OLED panel option and even a 240 Hz Full HD choice, while the base model will see its GeForce GTX 1060 Max-Q GPU upgraded to an RTX 2060. This SKU will reportedly cost from US$1,999. As for CPU options, the same Intel Core i7-9750H processor is mentioned here.