Nvidia might release a Max-Q version of the mobile GeForce GTX 1660 Ti GPU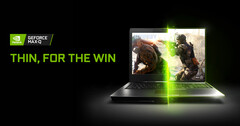 Alleged laptop data has been leaked that mentions an Nvidia GeForce GTX 1660 Ti with Max-Q design. Although a mobile version of the Turing-based graphics card has been expected for some time now, a Max-Q variant is a new development. Max-Q technology aims to improve energy efficiency but at the cost of performance.
It seems there is a possibility that not only is Nvidia preparing to release a mobile version of its GeForce GTX 1660 Ti graphics card, but there could be a mobile GeForce GTX 1660 Ti Max-Q variant as well. The latter potential GPU has been mentioned in a supposed laptop datasheet leak and is listed under the driver names.
Although the mobile GeForce GTX 1660 Ti has not been officially announced by Nvidia yet, it's almost certainly a done deal. Various leaks have pointed at its existence, including a recent one for an MSI GL63 8SD gaming laptop. Releasing a Max-Q model would allow Nvidia to offer the graphics solution to OEMs that want to concentrate on building thinner and quieter notebooks.
Max-Q has been around for a while; the GPU design was introduced into the GeForce 10 series for laptops in the middle of 2017. Reduced TDP means cooling fans aren't triggered as often, so laptops with Max-Q GPUs should be quieter than their non-Max-Q counterparts. But of course there is a trade-off, with Max-Q variants having lower clocks: The standard laptop version of the RTX 2080 offers 1,380 to 1,590 MHz whereas the RTX 2080 Max-Q manages 735 to 1,095 MHz for the 80-watt model.