The fastest GeForce RTX 2070 Max-Q laptop is just 7 percent behind the slowest RTX 2080 Max-Q laptop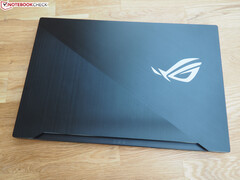 Nvidia reduced the baseline minimum TDP of Max-Q Turing GPUs when compared to last generation Max-Q Pascal GPUs. The result is that more laptops can now run the RTX 2080 Max-Q GPU, but the performance gap between it and the RTX 2070 Max-Q can be surprisingly narrow.
Working For Notebookcheck
Are you a techie who knows how to write? Then join our Team! Especially English native speakers welcome!
Currently wanted:
News and Editorial Editor - Details here

Just because two laptops are carrying the same CPU and GPU doesn't mean that performance will be identical. Many processors and mobile graphics cards operate at variable TDP levels depending on OEM implementation and this is not always advertised. As an example, the Asus Zephyrus S GX701GX is 16 to 18 percent faster in 3DMark benchmarks than the Lenovo Legion Y740-17ICH even though both are equipped with the same RTX 2080 Max-Q GPU. Similar results can be observed between the Razer Blade 15 and Gigabyte Aero 15 as well. A quick look at their GPU-Z data below shows why this delta exists.
Because of the relatively wide performance range from a single RTX 2080 Max-Q GPU, we wanted to find out if the RTX 2070 Max-Q can approach the performance of an RTX 2080 Max-Q laptop. Based on our data, the Razer Blade 15 RTX 2070 Max-Q SKU is surprisingly just 2 to 8 percent slower than the slowest RTX 2080 Max-Q laptop: the Legion Y740-17ICH.
The narrow performance gap between the RTX 2070 Max-Q and 2080 Max-Q GPUs is significant because of the wide price differences between them. Most OEMs charge heavy premiums for an RTX 2080 Max-Q configuration, but paying hundreds more for the GPU won't mean very much when a less expensive RTX 2070 Max-Q configuration could perform nearly the same.
For gamers who want the biggest bang for the buck, it might be worth investigating just how fast the laptop GPU can perform in relation to other laptops carrying the same processor.
3DMark
2560x1440 Port Royal Graphics
Asus Zephyrus S GX701GX


NVIDIA GeForce RTX 2080 Max-Q, 8750H

Average NVIDIA GeForce RTX 2080 Max-Q


(3698 - 5295, n=17)
Lenovo Legion Y740-17ICH


NVIDIA GeForce RTX 2080 Max-Q, 8750H

Razer Blade 15 RTX 2070 Max-Q


NVIDIA GeForce RTX 2070 Max-Q, 8750H

2560x1440 Time Spy Graphics
Asus Zephyrus S GX701GX


NVIDIA GeForce RTX 2080 Max-Q, 8750H

Average NVIDIA GeForce RTX 2080 Max-Q


(6464 - 8844, n=17)
Lenovo Legion Y740-17ICH


NVIDIA GeForce RTX 2080 Max-Q, 8750H

Razer Blade 15 RTX 2070 Max-Q


NVIDIA GeForce RTX 2070 Max-Q, 8750H

1920x1080 Fire Strike Graphics
Asus Zephyrus S GX701GX


NVIDIA GeForce RTX 2080 Max-Q, 8750H

Average NVIDIA GeForce RTX 2080 Max-Q


(18048 - 23032, n=17)
Lenovo Legion Y740-17ICH


NVIDIA GeForce RTX 2080 Max-Q, 8750H

Razer Blade 15 RTX 2070 Max-Q


NVIDIA GeForce RTX 2070 Max-Q, 8750H