The GeForce RTX 2080 Max-Q is only 10 percent faster than the GTX 1080 Max-Q when running DX11 games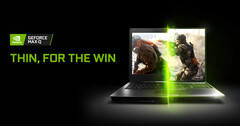 The findings are based on 3DMark Fire Strike averages taken from almost two dozen laptops equipped with GTX and RTX Max-Q graphics. The Turing series is better optimized for newer DX12 games where the performance benefits are much greater.
Working For Notebookcheck
Are you a techie who knows how to write? Then join our Team! Especially English native speakers welcome!
Currently wanted:
News and Editorial Editor - Details here

Now that the GeForce Turing Max-Q series is six months old, we have a better understand about how much of a performance boost users can expect over the last generation Pascal Max-Q series and between the different Turing Max-Q GPUs available.
First, let's compare the RTX 2080 Max-Q to the GTX 1080 Max-Q. 3DMark Time Spy results show an average 24 percent boost in performance when running DX12 titles compared to just 10 percent when running Fire Strike or DX11-based titles. Thus, users who intend on playing the latest DX12-enabled games will benefit the most from the new Turing GPUs.
When comparing the RTX 2080 Max-Q to the RTX 2070 Max-Q, however, the performance delta is slightly smaller than expected. Based on almost 18 different laptops equipped with the aforementioned GPUs, the average RTX 2080 Max-Q is only 17 percent faster than the average RTX 2070 Max-Q when running DX12 titles or 15 percent when running DX11 titles. In contrast, the average GTX 1080 Max-Q is about 21 percent faster than the average GTX 1070 Max-Q.
The results are notable because manufacturers tend to charge an extra $400 to $500 for the RTX 2080 Max-Q configuration for a smaller jump in raw performance when compared to the last generation GTX Pascal series especially if you plan on playing DX11-based games or older.
On the other hand, performance-per-Watt is the best it has been ever been for the Max-Q series. The MSI GS65 with RTX 2080 Max-Q, for example, consumes 143 W when running Witcher 3 compared to 148 W on the Asus Zephyrus GX501 with the GTX 1080 Max-Q while offering an average 24 percent boost in graphics performance for DX12-based titles.
3DMark
2560x1440 Port Royal Graphics
Average NVIDIA GeForce RTX 2080 Max-Q


(3698 - 5295, n=17)
MSI GS65 Stealth 9SG


NVIDIA GeForce RTX 2080 Max-Q, 9750H

2560x1440 Time Spy Graphics
Average NVIDIA GeForce RTX 2080 Max-Q


(6464 - 8844, n=17)
MSI GS65 Stealth 9SG


NVIDIA GeForce RTX 2080 Max-Q, 9750H

1920x1080 Fire Strike Graphics
Average NVIDIA GeForce RTX 2080 Max-Q


(18048 - 23032, n=17)
MSI GS65 Stealth 9SG


NVIDIA GeForce RTX 2080 Max-Q, 9750H
3DMark 11
1280x720 Performance Combined
MSI GS65 Stealth 9SG


NVIDIA GeForce RTX 2080 Max-Q, 9750H

Average NVIDIA GeForce RTX 2080 Max-Q


(9212 - 12785, n=18)
1280x720 Performance GPU
Average NVIDIA GeForce RTX 2080 Max-Q


(23386 - 30910, n=18)
MSI GS65 Stealth 9SG


NVIDIA GeForce RTX 2080 Max-Q, 9750H
3DMark
2560x1440 Port Royal Graphics
Average NVIDIA GeForce RTX 2070 Max-Q


(3240 - 3921, n=16)
CUK Model Z GK5CQ7Z


NVIDIA GeForce RTX 2070 Max-Q, 9750H

2560x1440 Time Spy Graphics
Average NVIDIA GeForce RTX 2070 Max-Q


(5948 - 7105, n=19)
CUK Model Z GK5CQ7Z


NVIDIA GeForce RTX 2070 Max-Q, 9750H

1920x1080 Fire Strike Graphics
Average NVIDIA GeForce RTX 2070 Max-Q


(11563 - 20201, n=22)
CUK Model Z GK5CQ7Z


NVIDIA GeForce RTX 2070 Max-Q, 9750H
3DMark 11
1280x720 Performance Combined
CUK Model Z GK5CQ7Z


NVIDIA GeForce RTX 2070 Max-Q, 9750H

Average NVIDIA GeForce RTX 2070 Max-Q


(9107 - 15962, n=21)
1280x720 Performance GPU
Average NVIDIA GeForce RTX 2070 Max-Q


(14723 - 25259, n=21)
CUK Model Z GK5CQ7Z


NVIDIA GeForce RTX 2070 Max-Q, 9750H
3DMark
2560x1440 Time Spy Graphics
Alienware 15 R3 Max-Q


NVIDIA GeForce GTX 1080 Max-Q, 7820HK

Average NVIDIA GeForce GTX 1080 Max-Q


(5636 - 6101, n=2)
1920x1080 Fire Strike Graphics
Alienware 15 R3 Max-Q


NVIDIA GeForce GTX 1080 Max-Q, 7820HK

Average NVIDIA GeForce GTX 1080 Max-Q


(17151 - 18505, n=6)
3DMark 11
1280x720 Performance Combined
Alienware 15 R3 Max-Q


NVIDIA GeForce GTX 1080 Max-Q, 7820HK

Average NVIDIA GeForce GTX 1080 Max-Q


(8652 - 9607, n=5)
1280x720 Performance GPU
Alienware 15 R3 Max-Q


NVIDIA GeForce GTX 1080 Max-Q, 7820HK

Average NVIDIA GeForce GTX 1080 Max-Q


(21816 - 24425, n=5)
3DMark - 1920x1080 Fire Strike Graphics
Alienware m15 GTX 1070 Max-Q


NVIDIA GeForce GTX 1070 Max-Q, 8750H

Average NVIDIA GeForce GTX 1070 Max-Q


(14146 - 16165, n=16)
3DMark 11
1280x720 Performance Combined
Alienware m15 GTX 1070 Max-Q


NVIDIA GeForce GTX 1070 Max-Q, 8750H

Average NVIDIA GeForce GTX 1070 Max-Q


(7458 - 12069, n=18)
1280x720 Performance GPU
Alienware m15 GTX 1070 Max-Q


NVIDIA GeForce GTX 1070 Max-Q, 8750H

Average NVIDIA GeForce GTX 1070 Max-Q


(17680 - 20829, n=18)