Exciting leak shows 2019 Acer Nitro laptops with 9th Gen Intel CPUs and mobile GeForce GTX 1660 Ti and GTX 1650 GPUs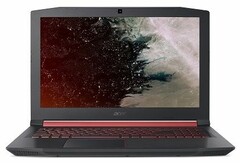 Acer is planning on fitting some of its upcoming Nitro laptops with GPUs from Nvidia's Turing-based GeForce 16 series and 9th Gen Coffee Lake Intel Core processors. A leaked slide names the Acer Nitro AN515-54 and Acer Nitro AN517-51 models, with various display and GPU options for each one. The leak has seemingly confirmed mobile versions of the GTX 1660 Ti and GTX 1650.
An incredible leak detailing some of the main hardware specifications for forthcoming Acer Nitro laptops has offered a wealth of surprising information. An image of a presentation slide of the notebooks was shared on ITHome and then on Twitter. The most interesting details of the leaked picture concern the CPU and GPU options for the 2019 Acer Nitros.
Apparently, the 2019 Acer Nitro AN515-54 laptop will offer GTX 1660 Ti/1650/1050 GPU options. This not only confirms a mobile version of the GeForce GTX 1660 Ti, but it also confirms the GTX 1650, which hasn't even been announced by Nvidia in its desktop form yet. The laptop will feature a CPU from Intel's Coffee-Lake-H series and comes with two display options: 15.6-inch IPS FHD 60 Hz or 144 Hz.
The 2019 Acer Nitro AN517-51 laptop will apparently allow shoppers to choose either a GeForce GTX 1660 Ti or GTX 1650 graphics solution. This larger device will also use a chip from Intel's 9th Gen Coffee Lake lineup, and it will also have at least two displays to choose from: 17.3-inch IPS FHD 60 Hz or 144 Hz.