System with four GeForce GTX 1080 cards in an SLI configuration just broke 3DMark's Time Spy record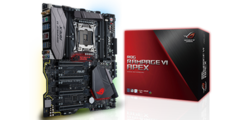 A new HWBOT World Record has just been set in 3DMark's popular Time Spy benchmark. The score of 37,697 points was achieved with a system that featured four Nvidia GeForce GTX 1080 Ti graphics cards operating in an SLI configuration. An Intel Core i9-9980XE processor was also used in the record-breaking system.
Another record has been set as part of the Galax OC Gathering 2019 event; however, this time it was an SLI configuration of four Nvidia GeForce GTX 1080 Ti cards achieving the incredible benchmark score. The result has not yet been posted in 3DMark's Time Spy Hall of Fame yet, but the mark has been verified.
The high score was achieved by an overclocking expert known as Rauf, who was able to utilize a liquid nitrogen-cooled setup for the big score. The current first four positions in 3DMark's Time Spy rankings are all taken up by users who used the same configuration as Rauf, with a 2x SLI GeForce RTX 2080 Ti system following closely behind.
Galax is renowned for the overclocking ability of its graphics cards, and this is yet another example of the company's expertise in this area. The Graphics Score for the Time Spy test was 42,807 while the system managed to attain a CPU Score of 22,487 points.