Nvidia's RTX 2080 is only a smidge faster than the GTX 1080 Ti in leaked 3DMark Time Spy benchmark?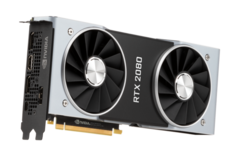 It is not clear if these results are provided by an RTX 2080 or 2070 card. Haters would quickly point out that if this is the RTX 2080, the price Nvidia is asking for the card is clearly unjustified. On the other hand, if this card is the RTX 2070, the high prices are justified. If anything, this leak might have stirred the controversies even more.
It seems that there is no way of knowing if the new RTX 2000 cards are a definite buy, at least until September 14 when Nvidia lifts the review embargo. Nvidia did provide some slides with 10 hand-picked games that are offering a taste of things to come, but most analysts believe that those are for pure marketing purposes and advise for caution when pre-ordering the new cards without seeing the real performance. Leaks might come in handy, especially now when gamers are on the fence about the new cards. Trusted leaker TumApisak on Twitter linked a 3DMark Time Spy result that could offer some more insight related to how much better the RTX cards compare to the GTX 1080 Ti.

The leaked results show minimal performance gains over the GTX 1080 Ti, and the tested card is most likely running on beta drivers, meaning there should be room for improvement. Additionally, the DLSS feature was not activated, since there is no support for it in 3DMark for the time being. The problem is no one can definitely say what GPU this is as the test only shows "generic VGA." Tum is asking if this is the RTX 2080, but some Twitter commenters are claiming it could be the RTX 2070.

Then there is the memory bus clock that is set to 7 GHz on the RTX card, which seems "a bit" too high even for GDDR6 standards. The Pascal cards appear to have the GDDDR memory running at 1.2 – 1.3 GHz, so a jump to 7 GHz is more like a giant leap. This could be a driver bug, further proving that the drivers are not final and prone to lead to some inconclusive results.

If the tested card is indeed the RTX 2080, the performance gain might not be that impressive, but keep in mind the new cards offer ray tracing capabilities plus the new DLSS tech, so the increased price could be justified. More leaks are expected to elucidate the performance controversies in the weeks to come, so stay tuned.