Nvidia GTX 1080/1070 cards get substantial price cuts after RTX 2000-series announcement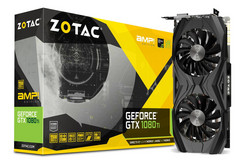 Nvidia announced the RTX 2000-series and the market reacted immediately with substantial price cuts for the Pascal flagships. Currently priced 30% lower than MSRP, cards like the GTX 1080 and 1080 Ti from Zotac are leading the "promotional offers." Additional price cuts could occur when the Turing GPUs hit the shelves in late September.
Immediately after the launch of a new gaming GPU series, prices for the previous gen models tend to drop gradually, but with the announcement of Nvidia's flagship Turing RTX 2000 cards, the prices for Pascal (mostly the GTX 1080/1080 Ti models) took a nose dive after only 1 day. Considering that the new Turing chips are not even available yet, the GTX 1000-series could see even more substantial price cuts.

The high prices of the Pascal cards gradually dropped to their MSRP marks during the current crypto market decline, and sources claim that there is still excess GPU stock, so retailers are now forced to cut prices well under MSRP. A quick look on Amazon reveals that the GTX 1080 Ti that had its original MSRP set to around US$1,000, is now down to US$679.99 (Zotac AMP! Edition with 11 GB VRAM), while the GTX 1080 (Zotac AMP! Edition with 8 GB VRAM), which had an initial MSRP of around US$650, is now available for US$469.99. Surprisingly enough, the GTX 1070 prices have not dropped at all for the time being, being locked at around US$400.

As the new Turing RTX 2000 GPUs are slated to launch in about 1 month, Pascal prices could see more price cuts, so maybe those who are looking to upgrade their 3/4-year old GPUs could wait a little longer and see how things turn out by Christmas.