Nvidia's RTX 2070 slightly faster than the GTX 1080 in latest leaked 3DMark Time Spy test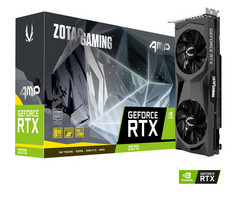 The high-end Turing GPUs do not seem to be a great upgrade choice for the time being, but what about the upper-mid-range RTX 2070 model? According to the latest leaked Time Spy results, the RTX 2070 GPU is indeed faster than the GTX 1080, however, the tested sample was already factory-overclocked, so the actual performance difference between a stock RTX 2070 and a stock GTX 1080 might be negligible.
Since the high-end Turing GPUs did not impress too much on the performance side, everyone is now eager to see how the mid-range solutions fair out against the Pascal models. The RTX 2070 is 5 days away from being officially launched, but it looks like some lucky reviewers already got their hands on early samples, as trusted leaker TUM APISAK revealed the 3DMark Time Spy results of an alleged factory-overclocked ZOTAC GeForce RTX 2070 model.

Apparently, TUM APISAK did not perform the test himself, but got the picture from an individual called Shiina Mashiro-2. The alleged ZOTAC RTX 2070 features a 1,950 MHz core and was tested on a system that integrated a non-overclocked Intel Core i7-8700K running at 3.7 GHz. It managed to score 8,151 points in the Time Spy test, which is around 15% faster than a stock GTX 1080 running on the same CPU. Shiina Mashiro-2 also tested the RTX 2080 and 2080 Ti, and these GPUs scored 9,266 and 10,850 points, respectively.

The factory-overclocked ZOTAC RTX 2070 sample will most likely end up costing as much as the US$599 Founder's Edition. With that in mind, is it really worth buying this over a stock GTX 1080, which is now priced at US$469? Ray Tracing is cool and DLSS might be a thing in the future, but right now it seems like that 15% performance boost is not really cutting it.