Rumored release date and full specifications for Intel's 9th Gen Coffee Lake H Refresh chips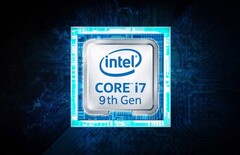 A potential launch date for Intel's anticipated 9th Gen Coffee Lake H Refresh has been offered: April 21. Along with the date, the same source has offered full details of the six models that will make up the series of new Intel Core mobile processors. However, some of the information conflicts with previously rumored specifications, although it does offer an insight to expected clocks and TDP.
Information in relation to Intel's upcoming 9th Gen Coffee Lake H Refresh of mobile Core processors has been shared on the Chinese Baidu website. Although the source is unverified and the details offered seem to differ from what we already believe about the next-gen chips, it does offer additional expectations for clock rates and thermal design power (TDP). An official announcement date of April 21 has also been given in the same post.
In terms of information conflict, the Baidu post seems to show that all six chips in the refreshed series will have Hyper-Threading capabilities. However, it's believed the i7 processors will not be able to utilize multiple threads per core, and they will actually feature 8/8 not 6/12 as mentioned in the table below. The i5 processors may only feature 6/6 (c/t) according to other sources. So the rest of the details offered here should be taken with a healthy dose of skepticism for the time being:
Cores
Threads

CPU frequency

(base/multi-core/single boost)

L3 cache memory
GPU frequency
TDP
i5-9300H
4
8
2.4/4.0/4.1 GHz
8 MB
350-1050 MHz
45 W
i5-9400H
4
8
2.5/4.1/4.3 GHz
8 MB
350-1100 MHz
45 W
i7-9750H
6
12
2.6/4.0/4.5 GHz
12 MB
350-1150 MHz
45 W
i7-9850H
6
12
2.6/4.1/4.6 GHz
12 MB
350-1150 MHz
45 W
i9-9980H
8
16
2.3/4.1/4.8 GHz
16 MB
350-1200 MHz
45 W
i9-9980HK
8
16
2.4/4.2/5.0 GHz
16 MB
350-1250 MHz
45 W