Another one bites the dust: Google Play Artist Hub to shut down by the end of the month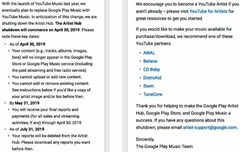 With YouTube Music now Google's primary streaming service, the Google Play Artist Hub is going to shut down at the end of April. Sadly, Google has no plans to offer a new direct portal for smaller artists, and all material that was uploaded through the Google Play Artist Hub will disappear from both the Google Play Store and Play Music.
Introduced to the US public on November 16, 2011, Google Music included Artist Hub pages for smaller musicians to self-publish their music from the start. Sadly, Google's music streaming services have now reached a point where YouTube Music gets all the attention and even Play Music will be replaced. However, the first to go down is Google Play Artist Hub, which is scheduled to be discontinued on April 30.
According to an email that was sent to Google Play Artist Hub users, on April 30 all Artist Hub content will no longer show up in the Google Play Store and Play Music. One month later, the users will receive the final reports and payments due for all sales and streaming through April 30, 2019. On July 31, all reports will be deleted from the Artist Hub.
Artist Hub users will have to republish their material for purchase and download with one of the recommended YouTube partners, such as AWAL, Believe, CD Baby, Stem, and so on. Obviously, they could also pick a slightly different approach with a niche service like Bandcamp or Soundcloud.
If you happen to be an artist who used this service, please tell us what you think about Google Play Artist Hub's demise in the comments section. Will you be heading for Bandcamp? Jamendo? Anything else?