Intel Core gen 9 CPU series performance surfaces on Geekbench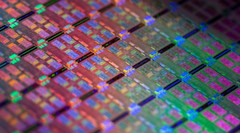 The Geekbench scores place Intel's gen 9 CPUs ahead of the AMD competition, but the success of these chips will also depend on the launch prices. AMD's Ryzen 2 CPUs are selling like hot cakes due to a very good price/performance ratio, and Intel needs to adjust the gen 9 prices accordingly if it wants to rebalance the market share.
Intel's 9th generation Core CPUs are almost here, so it is only natural to get a few leaks before the official release. The specs for the new CPUs were already leaked a few months ago, but there was some uncertainty regarding the release date for the new chips. Apparently, Intel needs to release these new processors as soon as possible in order to provide decent answers for AMD's Ryzen gen 2 CPUs that are selling like hot cakes. The three Core gen 9 CPUs were spotted in Geekbench 4, and the results indicate overall higher performance compared to AMD's counterparts.

The top-of-the-line i9-9900K CPU with 8 cores and 16 threads managed to score 6248 points in single-core mode and 33037 points in multi-core mode. This CPU was tested on an Asus ROG Maximus X Hero Z370 motherboard coupled with 16 GB of DDR4 RAM.

Since Intel is now changing the naming convention and made the i9 top-of the-line, the i7 got demoted to a more mid-high solution. Also, the i7-9700K does not even support hyperthreading anymore, so it only integrates 8 cores and 8 threads. This one was tested on a Gigabyte Z370 AORUS Ultra Gaming coupled with 16 GB of RAM and managed to score 6298 points in single-core mode, while in multi-core mode it scored 30152 points.

Finally, the i5-9600K CPU that comes with only 6 cores and no hyperthreading support was tested on the same Gigabyte motherboard. It managed to score 6027 points in single-core mode and 23472 points in multi-core mode.

It would be interesting to see if Intel would price the non-multithreaded CPUs lower than the AMD competitors. Pricing information is expected to be announced in late September and the official launch should occur in October.