MSI variant of Nvidia's GeForce GTX 1650 graphics card spotted in EEC product registration; Ti SKU also rumored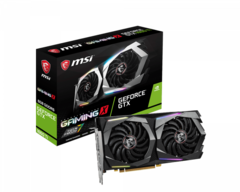 An MSI GeForce GTX 1650 GAMING X 4G graphics card has been spotted in a listing on the website for the Eurasian Economic Commission (EEC). Scant details are offered in regard to the product; however, it does seem to confirm that Nvidia will be adding to its GTX 16-series soon. There is also a rumor that a GeForce GTX 1650 Ti card is in the works.
It seems the GeForce GTX 1660 Ti and GTX 1660 cards will soon be accompanied by the GTX 1650. We have already reported on the rumors around this latter graphics card, but a listing for an EEC product registration has all but confirmed the existence of another Nvidia GeForce GTX 16-series card.
The EEC listing, which is in Russian, mentions a few GPU models from the Taiwanese manufacturer MSI. The products included are a GeForce GTX 1050 Ti 4G OCV1, a Radeon VII 16G, and a GeForce GTX 1650 GAMING X 4G. This information seems to confirm that the GTX 1650 will soon be with us and that it will sport 4 GB of GDDR5 memory.
It's believed the GeForce GTX 1650 will utilize a 128-bit memory bus and feature a TU-117 GPU. The expected price for this new budget-level card is US$179. If that's not perturbing enough for AMD, there's also a rumor that Nvidia might release a GeForce GTX 1650 Ti graphics card, too – just to make sure that no gap is left unfilled at the lower end of the graphics card market.