Alleged Ashes of the Singularity benchmark Crazy score of 4200 for Nvidia's GeForce GTX 1660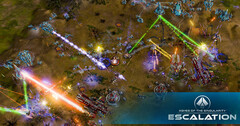 An Ashes of the Singularity: Escalation benchmark score for a supposed Nvidia GeForce GTX 1660 graphics card has been reported. According to the result, the upcoming GPU managed to score 4200 points. It's rumored the latest addition to Nvidia's GeForce 16-series of graphics cards will be released on March 14.
Tum Apisak has been sharing some new benchmark information via his Twitter account. This time, the details concern Nvidia's forthcoming GeForce GTX 1660. According to the tweet, the Turing-based graphics card managed a score of 4200 points in the familiar Ashes of the Singularity: Escalation benchmark at the Crazy settings (Low, Standard, High, Extreme, and Crazy presets are available).
Apparently, the results came from a user who was testing numerous different Nvidia GeForce graphics cards, which means some handy comparison scores were made available. Unsurprisingly, considering the GPUs that were involved, the RTX 2060 came out on top with 5500 points and was followed by the GTX 1070, which scored 4900 to 5100 points.
Next up was the new GeForce GTX 1660 Ti that managed an Ashes of the Singularity: Escalation benchmark Crazy score of 4800, with the non-Ti variant coming behind that with the reported score of 4200. Bringing up the rear was the GTX 1060 with 3800 points. Of course, it's possible these scores have been manipulated or even faked, but with the launch of the GeForce GTX 1660 supposedly right around the corner, its actual performance levels will soon be known.