Intel's STT-MRAM ready for mass production, viable alternative for SRAM and NAND flash?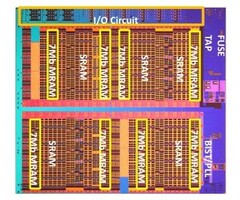 STT-MRAM is one of the alternatives for current SRAM and NAND flash memory / storage solutions. Intel's current implementation is manufactured on the 22 nm node and promises faster read/write speeds, better endurance, and long-term data storage at higher temperatures. Its hybrid nature should allow Intel to include it in future Optane products.
Working For Notebookcheck
Are you a techie who knows how to write? Then join our Team! Especially English native speakers welcome!
Currently wanted:
News and Editorial Editor - Details here

Intel has been working on the spin-transferable torque magnetoresistive RAM (STT-MRAM) technology for quite some years now, and the company just announced that it is ready to mass produce this type of memory chips. STT-MRAM is Intel's alternative for embedded SRAM and NAND flash, so we could be looking at new storage products coming in 2020.

The latest STT-MRAM implementation was presented at the International Solid-State Circuits Conference this Tuesday. It looks like the memory chips do not need the latest 7 nm manufacturing process, as Intel presented highly responsive modules built on the older 22FFL FinFET process, which already provides a high enough density. STT-MRAM promises higher write and read speeds compared to current RAM implementations, plus it offers virtually limitless endurance and long-term data storage at high temperatures. Intel will most likely include these new memory chips in its future Optane products, since MRAM can easily act as computer RAM and storage at the same time. The current MRAM density reaches only 7 Mb per package, however, so Intel could first introduce it in upcoming CPUs, replacing the current cache memory.

Some of the technologies that could really benefit from the MRAM hybrid chips include machine learning and AI applications. MRAM could thus act as artificial neurons for the neural network, sending data at high speeds, as well as storing certain bits of information as "memories."