MWC19 | MicroSD cards are getting faster and bigger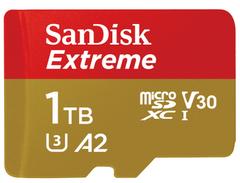 Western Digital and Micron both announced 1 TB microSD cards earlier today. At 1 TB, these will be the largest microSD cards upon release later this year. Additionally, the SD Association announced SD Express, a new protocol that will be part of the upcoming SD 7.1 specification. SD Express promises to bring transfer rates of 985 MB/s to SD cards and microSD cards, although there is no word on when the standard will be released.
Working For Notebookcheck
Are you a techie who knows how to write? Then join our Team! Especially English native speakers welcome!
Currently wanted:
News and Editorial Editor - Details here

MicroSD cards are a wonder of modern technology. Despite being smaller than most people's fingernail, today's microSD cards can hold just shy of 500 GB of data and can transfer data fast enough to easily record high-definition, high-framerate video. Announcements made today show that engineers are pushing the tiny technology even further. MicroSD cards are about to get much bigger and much faster.
Western Digital and Micron, two behemoths in the storage and memory industry, each announced 1 terabyte microSD cards earlier today. Western Digital's card (which carries the company's SanDisk branding) is rated at 160 MB/s and 90 MB/s read and write speeds, respectively. In comparison, Micron's is rated at 100 MB/s and 95 MB/s read and write, respectively. The SanDisk card won't come cheap, though; the company plans to start selling the card in April for US $450, which is fairly steep considering the price of other capacities. Micron hasn't yet announced a price for its 1 TB microSD card, but we can expect to see it hit store shelves sometime in the second quarter of 2019.
While these cards have plenty of space to hold storage-hogging 4K video footage, they won't be able to capture it as quickly as future SD and microSD cards. According to an announcement made by the SD Association earlier today at MWC, SD cards will soon operate on the SD Express protocol. The new standard, which is based on the more familiar PCIe and NVMe standards, promises to bring transfer rates up to 985 MB/sec to both standard SD cards and their microSD variants.
The SD Express standard (as defined by the upcoming SD 7.1 specification) is aiming to equip mobile devices, particularly phones and cameras, with "removable SSDs," according to SD Association President Hiroyuki Sakamoto. We may not see SD Express-enabled cards or devices this year, but the SD Association is working closely with PCI-SIG (the organization behind the PCIe standard) to bring the new protocol to market soon.