MWC19 | Alcatel showcases a new fleet of phones at MWC19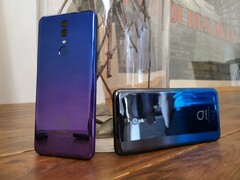 Alcatel has brought four new phones to show off at 2019's Mobile World Congress (MWC19). The 1X and 1S are bugdet-friendly options, whereas the 3 and 3L are slightly more premium. They have been finished with some attractive materials, and boast some up-to-date features such as AI camera enhancements and face unlocking.
Alcatel has come to MWC19 with 4 of its newest phones to show off at the Barcelona event. They are the 1X, 1S, 3, and 3L. With its traditional forehead for the selfie camera and front speaker, the 1X is the entry-level model of this group. It has a 5.5-inch 18:9 HD screen, and is also equipped with Face Unlock and bokeh effects in its dual cameras. Unlike the 1S, it does not have a fingerprint sensor on its rear panel. However, it is finished in a sandstone-effect material that may appeal to those afraid of dropping their phone.
The 1S' back, on the other hand, is finished so as to have a brushed-metal appearance. It is powered by an octa-core processor and 3GB RAM. The Alcatel 1S has 32GB of storage, a 16+2MP camera and a 3060 mAh battery. The 3 and 3L boost the lineup in terms of specs somewhat: they have glossy rear panels with somewhat of a gradient effect and fingerprint sensors. They share the same 5.9-inch HD+ display with a 19.5:9 aspect ratio and a U-shaped notch. Their 16+5MP dual cameras are augmented with AI enhancements. The 3 and 3L's SoCs differ, however: they have a Snapdragon 439 with 3 to 4GB of RAM and a Snapdragon 429 with 2-3GB of RAM respectively.
At present, we know the Alcatel 3 will be sold at US$180, while the 3L and 1S will cost $158 and $124 respectively. The 1X's price is estimated to be under $120 at present. These phones are scheduled for release by the 2nd quarter of 2019. However, based on what we have seen, they appear to be compelling prospects for the budget end of the smartphone market.