Aukey unveils Dynamic Detect, a new fast-charging solution for USB-PD chargers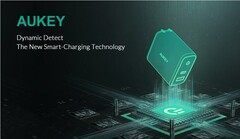 Aukey, a common name in USB power and mobile-device accessories, has launched a new technology called Dynamic Detect. It allows a dual-port USB-Power Delivery (USB-PD) charger to recognize the number of devices connected to it and allocate its full wattage accordingly. This could allow an ultrabook to fast-charge at the full wattage it needs.
Aukey has unveiled its new Dynamic Detect technology for USB-PD. This innovation is intended to address a common drawback linked to PD chargers with both type-C and type A ports. These wall-warts could be rated for fast-charging rates such as 30 watts (W). However, one device connected via the type-C port may only charge at 18W, regardless of whether it is using the power brick alone.
Aukey claims that Dynamic Detect has been designed to take these issues into consideration. It manages the wattage in a given wall charger so that a device could charge at an optimal rate when connected alone. The company also claims that it can allow one with a relatively large, fast-charging battery (e.g. a MacBook Pro) to charge at 60W while on a charger with 2 30W ports.
Dynamic Detect is currently patent-pending and based on proprietary Aukey technology. It will be integrated into the upcoming PA-D1 30W PD Wall Charger, which will be released in May 2019, and perhaps further accessories thereafter.