This is fast charging: From 0 to 4,000 mAh in only 17 minutes with Xiaomi's 100 W fast charger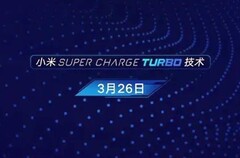 Although it might take a while for it to hit the market, Xiaomi's latest battery charging tech — dubbed "Super Charge Turbo" — puts all other fast charging solutions currently available to shame. In a Weibo video shared by Xiaomi's co-founder Lin Bin, this 100 W charging solution is shown fully charging a 4,000 mAh battery in just 17 minutes.
Tomorrow, Xiaomi will unveil a fast-charging technology that finally does justice to the word "fast," although it might take at least a few months for it to become commercially available as well. Earlier today, Xiaomi's co-founder and president, Lin Bin, shared a video on Weibo that shows the Super Charge Turbo technology in action, and describing it as "impressive" is a bit of an understatement.
Since numbers are all that matters when talking about fast charging technologies, these are the essentials of the Xiaomi Super Charge Turbo tech: 100 W wired charging, from empty to 4,000 mAh in just 17 minutes! The 4,500 mah battery of the Huawei Mate X, which has 55 W fast charging, needs 30 minutes to get to 85 percent. OPPO's fast charging solution, which is rated at 50 W and is also present in the aforementioned video, can only push a 3,700 mAh battery to 65 percent in 17 minutes.
When it comes to fast charging, Xiaomi is not in the leading pack yet. Its smartphones only get up to 27 W fast charging support, and the Xiaomi Mi 9 flagship only comes with an 18 W charger in the retail package. These being said, do you think that this Chinese brand has what it takes to come on top before the end of the year and to bring 100 W fast charging to the market in just a few months?