The US market has seen 14 consecutive months of falling smartphone sales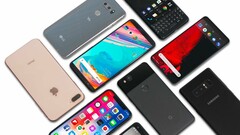 The months of December 2017 through to January 2019 have been associated with declining smartphone sale numbers in the United States on a year-on-year basis. Counterpoint, a market analysis firm, cited the lack of deals on flagships and the government shutdown as factors in the trend as it applied to January.
The market research group Counterpoint has announced that US smartphone sales fell in January 2019 compared to January 2018. Furthermore, the company's findings indicate that this also occurred for every other preceding month up to and including December 2017. It means that the country has seen fewer smartphones sold in it year-on-year for 14 months straight.
Counterpoint did not offer a reason as to this overall trend in its latest release. However, in the specific case of January 2019, it stated that the government shutdown was a main factor in smartphone sale declines. It obviated the deals on pre-paid phones that are typically instituted in the first month of the year due to the mechanics of the US retail tax season. They were deferred to February instead.
In addition, it appears that flagship devices failed to go out of stock at the end of the year in 2018 as expected, which would have been compensated for by January sales under normal circumstances. Counterpoint's research also found that the iPhone XR was the best-selling premium-category phone in January, whereas sales of the Samsung Galaxy Note 9 decreased slightly due to anticipation for the new S10 line.