Gartner: Huawei, Samsung up in Q2 smartphone sales, Apple down and under threat from Xiaomi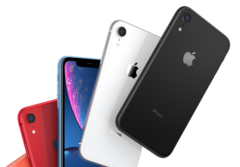 Despite the cards being stacked against it last quarter, Huawei managed to record an increase in smartphone sales of 16.5 percent for the quarter, while Samsung also saw a 3.8 percent bump. Apple, on the other hand, continued its downwards trend with a 13.8 percent decline in sales for the quarter.
The global smartphone market declined by 1.7 percent for the second quarter of 2019 compared with the same period last year, according to the latest data from Gartner. However, this still totaled a relatively healthy 368 million units sold globally across the months of April, May and June. Samsung still remains the number 1 vendor overall with a 20.4 percent market share while Huawei cemented its position as the number 2 vendor with a 15.8 percent share. Apple held on to third place with 10.5 percent of the market but is under threat from another Chinese smartphone in the form of Xiaomi with 9 percent.
Samsung sold just over 75 million smartphones during the period, which represented a spike of 3.8 percent compared to the same time last year. Huawei, despite the US trade ban, still managed to increase its sales by 16.5 percent with 58 million sales. Apple, on the other hand, lost market share while recording a 13.8 percent decline in sales with a total of 38.5 million iPhone shipped. Chinese smartphone maker Xiaomi now poses a real threat to Apple's grip on third place selling only five million fewer units than Apple for the same period with 33 million devices sold.
"Demand for high-end smartphones has slowed at a greater rate than demand for midrange and low-end smartphones," said Anshul Gupta, senior research director at Gartner. "To try to boost smartphone replacements, we've seen manufacturers bringing premium features such as multi-lens front/back cameras, bezel-less displays and large batteries from their flagship smartphones into lower-priced models."