Apple channels Samsung with its new iPhone 11 trade-in program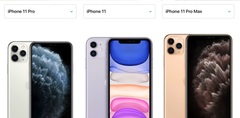 Earlier in the year, we learned that Samsung would offer up to US$600 off the price of a new Galaxy Note 10 phone - in exchange for the right used device, that is. Now, Apple is doing the same for its new line of iPhones. These new trade-in prices apply to all 3 new models, and can knock an 11 down to as little as $99.
Samsung launched the Galaxy Note 10 series at a cost that goes up to US$1200 for its highest-end 4G SKU. These potentially daunting prices can seem easier to deal with in the presence of an existing device a buyer can trade in for as much as US$600 off this price. Now, Apple has followed suit in the wake of its latest iPhone launch event.
This new program offers the same upper limit off the price of an iPhone 11, 11 Pro or 11 Pro Max. However, this potential discount is for an XS Max in good condition (which may still go for similar or better prices online). There is also a range of other options, which start at up to $500 for an XS to up to $45 for an SE. Otherwise, Apple offers the opportunity to send an old device to them for recycling in exchange for a new 11-series unit.
Unlike Samsung's program, this version extends to Apple's own products only. In addition, trade-in prices may be contingent on many factors, not the least the company's willingness to accept a given swapped device for the condition the sender says it's in. Nevertheless, it may reduce the cost of upgrading to as little as $99, $399 or $499 in the case of an iPhone 11, Pro or Pro Max respectively.
This initiative can be seen as a generous and eco-conscious gesture on Apple's part; on the other hand, it could also be seen as a way to deflect criticism regarding the full prices it has set for phones that are iterative updates at best.