Apple's TV+ and Arcade titles, formats and pricing structures are outlined in full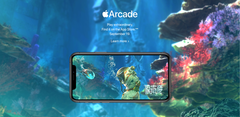 The latest Apple keynote introduced the new iPhones and iPad, yet did not stop there. It also outlined the company's new gaming- and TV-streaming services in detail. They will both go live in November 2019, cost US$4.99 per month and have content ready to go.
Apple also re-introduced its new content-streaming and gaming platforms at its September 2019 launch event. They are still called TV+ and Arcade respectively, in accordance with the company's last launch event. However, we also now know how much they will cost and when they will become available to customers.
Both new services have been set at US$4.99 per month, with the first month free. As promised earlier, they will be able to "jump" from screen to screen, so long as the devices in question are connected to the same account. Apple claims that Arcade will have 100+ new and unique titles for customers to access. As for TV+, it seems that its show count's thumbnails could all fit on the same screen at present; however, the company asserts that new original content will appear every month.
These platforms will support playback or gameplay either online or offline via download. Arcade and TV+ will also allow each account-holder to share their subscription with up to 5 and 6 other people respectively. Apple is also offering a year's worth of free TV+ with every purchase of a new iPhone, iPad, iPod touch, Mac, or Apple TV. Both new services will go online from November 1, 2019.