46% of US households with broadband have multiple streaming subscriptions now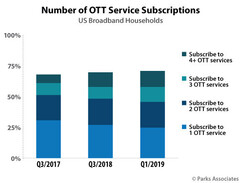 New research has found that nearly 50% of all US households with broadband subscribe to 2 or more subscription-based services in 2019, whereas this figure was 33% in 2017 and only 20% in 2014. The apparent demand has driven the number of individual services to match in the country. It has grown by 1.4 times since 2014.
New research from Parks Associates has found 46% of all US households with broadband have 2 or more subscription-based services by now. Netflix, Hulu and Amazon Prime Video unsurprisingly account for most of them. However, there are now 140% more services that have joined them in this country.
The analysts conclude that this is because the major platforms, despite their size and the breadth of content they offer, still do not cover all the media users want to consume. On the other hand, smaller services have much smaller subscriber bases. Parks reports that 72 of them have fewer than 20000, whereas 90 have fewer than 50000 customers.
On that note, the analysts stated that, while customer awareness of the concept of pay-per-month-type streaming is high, (for example, 53% of US broadband households subscribe to at least 1 streaming service as well as traditional paid TV) individual service recognition in the US is low. The new study also found that nearly 75% households have 1 subscription, compared to 52% in 2014.