52% of US households with high-speed Internet now watch their streaming services on connected TVs: new report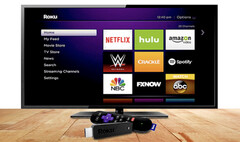 A thin majority - 52% - of all households with broadband connections in the US now watch content that can be found, bought or sourced online on their connected TVs. These findings have been reported by Parks Associates. They have also discovered that this activity is now more popular among such households compared to other leisure pursuits - even gaming.
A new report on digital media and its consumption indicates that 52% of all households in the US with broadband-level internet connections use over-the-top (OTT) video services on TVs that support online connections. OTT video is defined as such media that can be sourced via routes that are alternatives to traditional cable, sattelite or terrestrial TV. This report, published by Parks Associates, also reports that the most prominent examples of OTT video among its study's respondents were Netflix, Hulu or Amazon Prime Video.
This study also found that its subjects watched an average of 25.7 hours of video per week in 2018. This is less than similar values recorded in 2016 (29.5 hours/week). However, 19% of the consumers in question reported having a subscription to one of the most popular OTT services last year, compared to 13% in 2017. On the other hand, the respondents reported that they enjoyed local broadcasts, channels or programs the most of all the content available to them.
Parks Associates also reported that the households surveyed reported that watching programs or movies in their homes scored highest among the leisure activities enjoyed the most in the report. This pursuit comfortably beat others, including 'hobbies', 'reading', 'gaming' and 'live events' in this category. Therefore, based on this report, it appears that domestic smart TV-watching may be the main entertainment of the future.