New Snapdragon 855-powered devices show up on Geekbench, all of which could be the next Xiaomi Black Shark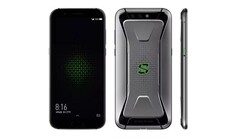 Multiple new entries for the same device - a 'blackshark AAA' - have appeared on the Geekbench 4.3 database. They are all powered by the same SoC, which is likely to be the Snapdragon 855. Interestingly, all but 2 of the 10 listings specify 12GB of RAM.
The Xiaomi Black Shark is a 'gaming' smartphone due for a refresh this year. Prior leaks and rumors have indicated that it will come with the top-end Snapdragon (SD) 855 processor, in order to give it the best edge possible in this market sector. A slew of new entries that may be related to this upcoming device have appeared on Geekbench over the last 2 days (March 6-7 2019).
All of these listings have returned the same 1.78GHz octa-core Qualcomm processor code-named "msmnile" as the SoC in all of the 10 new entries. Those details have been associated with the SD 855 in previous Geekbench 4 results.
The posts also all have the same name: blackshark AAA. This may be consistent with established Xiaomi nomenclature, although previous leaks have suggested that this new generation of the phone may be called the 'Black Shark Skywalker'. (Then again, "AAA" could also be considered an at-least half-decent bit of gaming-themed branding).
Most of these listings also show that the phones tested have 12GB of RAM. However, a closer inspection reveals that two of them only have half of this memory. Curiously, neither of them are ranked in the bottom half of the new list of "blackshark AAA" results.
In fact, the lowest scores of all these entries (which is associated with the 12GB RAM spec) are 3458 and 11199 in single-core and multi-core terms, whereas the highest single-core score (3868) has been returned by a 6GB variant. There could be a number of good explanations for this, including poor optimization and/or RAM use in the Android 9-based OS mentioned in all the new listings.